Weather-wise, it has been a roller-coaster year in Burgundy. Scorching heat in June, cool and rainy in July, better in August, with the harvest now due to start in about one week's time. It's anybody's guess how 2011 will eventually turn out and I have never pretended to be one of those soothsayers who, with confidence unbounded, pronounce judgement on a vintage before hardly a grape is picked and then carve that judgement in stone. No wine region deserves to have a whole vintage pigeon-holed in such cavalier fashion and to do so in Burgundy is just plain stupid, so I am not about to try.
Read More...
At a recent wine tasting in the Ramonet cellars in Chassagne-Montrachet I met a gentleman from Beaune who protested vigorously when I casually mentioned that the historic old town now boasted its own McDonalds. He set me straight by pointing out that it was not IN Beaune but on the outskirts. Once that hair had been split we settled down to tasting the wines but it set me thinking for, contrary to what might be expected, McDonalds is phenomenally successful in France. A few days later I was in the city of Dijon, hungry at lunchtime and in need of a casual bite. Eschewing a thronged McDonalds on rue de la Liberté I searched instead for something more Gallic.
Read More...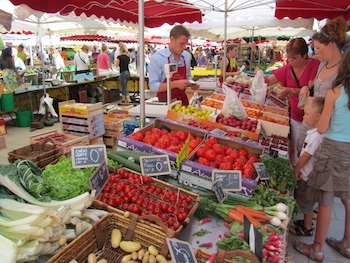 One of the most sacred rituals for holidaymakers in France is a visit to the local market to stock up on fruit and vegetables, bread and cheese, meat, fish and fowl. Critical judgement will usually be abandoned and in its place will come a dewy-eyed Arcadian vision, which always results in first time visitors buying far more than they need. Arms will be dragged nearly from their sockets as ton-weight bags are lugged laboriously between stalls and the throng of other shoppers. And that is when you spot the clever market shopper, nonchalantly pulling a trolley bag, stopping to examine everything carefully before making a purchase.
Read More...