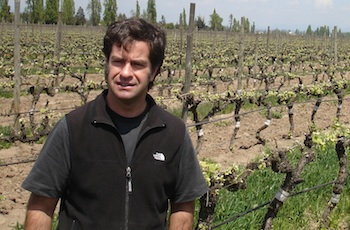 I first met Adolfo Hurtado about 10 years ago and the passage of a decade since then has done nothing to curb the boyish, infectious enthusiasm he brings to his job as chief winemaker at Cono Sur in Chile. More recently we cycled through the vineyards as he explained his meticulous viticultural practices, which see flocks of geese marching imperiously around the vineyard and a dazzling blanket of cover crops planted between the rows of vines.
Read More...

To Dunne & Crescenzi in Sandymount last Monday to meet Fernando Olmeda Ollé, Technical Director of the Torres winery in Chile. Founded in 1979, which is prehistoric in terms of the modern Chilean wine industry, Torres is of course linked to the 'mother ship' in Spain and their other outpost in California. I think it was 1998 when I first visited the Chilean operation and I was back again about 10 years later. This time around the mountain came to Mohamed (ahem) and, as ever, I found the Cordillera to be head and shoulders above the other wines.
Read More...

Running until 12th April is the Spring Wine Festival at Dunnes Stores and included in it is a whole raft of wines at €5 per bottle, with another tranche at €6. Never, however, would the advice to 'trade up' be more apt than here, for by spending just another euro some tasty new world wines come onto the radar.
Read More...