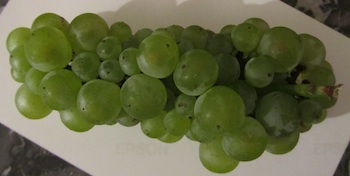 If I said that this bunch of Montrachet grapes fell off the back of a passing truck no one would believe me but that is what happened last Saturday afternoon. I picked them up and hollered,
sotto voce
, after the driver but he didn't hear me (that's the untrue bit). Could I make a few centiliters of wine with them? What to ferment it in? The bowl of an unused pipe made of oak? No, I didn't think so either. And they taste so good. Perfect for breakfast, in fact, intensely juicy and mouthwatering, sweet 'n' sour all in the one bite. Impossible to stop eating them.
Read More...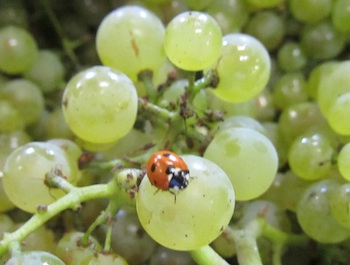 This is a ladybird with impeccable taste, nestled snugly on a bunch of Montrachet grapes at the Drouhin winery on the outskirts of Beaune yesterday. And you needn't worry that she soon met her doom in the press. Far from it. Having first noted that her presence was evidence of the success of their biodynamic practices, Véronique Drouhin then carefully removed her and brought her outside where she was placed gently on a white rose. The cellar hands get a good laugh out of Drouhin's concern, though ladybird rescue is not all that she does during harvest.
Read More...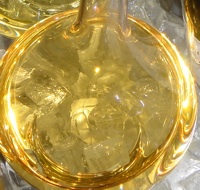 You can tell by the colour. Honey-gold when it should be no deeper than full yellow. And the smell. Caramel, marzipan and nuts. In other words heavy, sweet and full, like a cheap perfume, with no 'brightness', no fruity tingle. The taste follows on dismally from this sad litany: lacking in life and 'bounce', usually low in acidity, plodding rather than fresh, fit only for flinging down the sink, certainly not to be sipped and savoured. I speak of prematurely oxidised white Burgundy.
Read More...