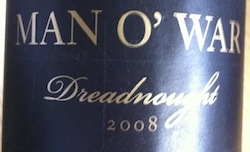 What better way to celebrate ANZAC Day than by organising a themed wine dinner with wines from Australia and New Zealand, and the food giving at least a nod to the Antipodes? That's precisely what I did last weekend.
Read More...
Kiwi fruit, sheep, teak-tough rugby players, great runners… but wine? It is hardly 30 years since that would have been the reaction had you suggested that New Zealand might be capable of producing world-class wine. And then Sauvignon Blanc came along and changed everything. There has been no looking back since then, though I for one have long tired of strident Sauvignons with electric-shock flavours and little else. Not that they are needed any more, for the Kiwi standard is now carried by Pinot Noir and Syrah and it is my prediction that this pair will take the reputation of New Zealand wine to places that no Sauvignon ever could.
Read More...

No, they are not the Curly, Larry & Moe of the Irish wine trade but a trio of Ireland's small, independent wine merchants who, between them, import a wonderfully diverse range of wines from France, Spain and Italy. Container loads of anonymous plonk are not for them; rather they seek out dedicated, quality conscious producers whose wines fairly hum with character.
Read More...