ANZAC Dinner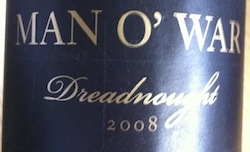 What better way to celebrate ANZAC Day than by organising a themed wine dinner with wines from Australia and New Zealand, and the food giving at least a nod to the Antipodes? That's precisely what I did last weekend. With about a dozen diners one bottle of each wine provided a generous tasting measure for each. The committed Europhiles in the group struggled with some of the wines, but a handful played to rave reviews and in general they were well received. The wines were sourced from far and wide: some were carried home in hand luggage when such a practice was still possible, some were shipped home from various wine shops in Sydney and Adelaide, some were sourced in Ireland. We started with some tasty bubbles…
* Man O' War, Tulia Blanc de Blancs 2009 Waiheke Island
Plump ripe fruit, verging on rich, lovely succulent character.
Riesling
(matched with tempura of red snapper, chips)
* Kanta Riesling 2007, Egon Müller Adelaide Hills, Balhannah Vineyard
Very well composed, good fruit, good balance, very clean, good length.
* Lalla Gully Riesling 2004 Tasmania
Soft fruit, nice roundness and balance, very elegant.
* Peter Lehmann, Reserve Riesling 2001 Eden Valley
Very singular in style, one delicious hit of lime-infused flavour, austere at the edges.
Semillon
(matched with asparagus & verjus hollandaise)
* Mount Pleasant, Lovedale Semillon 2005 Hunter Valley
Delicious, mouthwatering fruit wrapped around the signature Hunter acidity, lovely.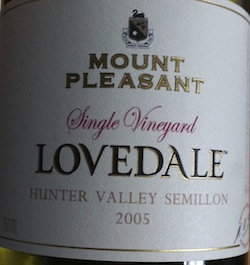 * Peter Lehmann, Reserve Semillon 2001 Barossa Valley
Odd aroma at first, then settled down, firm and forceful, precise and intense.
* Tyrrell's Wines, Vat 1 Semillon 2000 Hunter Valley
Character turned to caricature, lean and searing acid. Will it ever come around?
Pinot Noir
(matched with venison medallion, wild mushrooms & gnocchi)
* Nautilus Pinot Noir 2009 Marlborough
Rich fruit verging on jammy but enough acidity to give it backbone and freshness.
* Stonier, Reserve Pinot Noir 2009 Mornington Peninsula
Lovely wine, oodles of fruit with sweet spicy hints too, good length.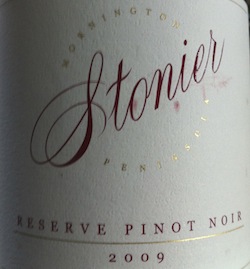 * Tapanappa Pinot Noir 2007 Foggy Hill Vineyard, Fleurieu Peninsula
Corked! Should have been a contender.
Syrah/Shiraz
(matched with meat loaf with tomato & basil, based on Maggie Beer recipe)
* Man O' War, Dreadnought Syrah 2008 Waiheke Island
Gorgeous lean, savoury spice, great intensity and length, excellent wine.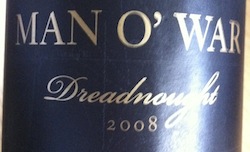 * Man O' War, Dreadnought Syrah 2009 Waiheke Island
So very different to the '08, fuller and richer, 'bigger' fruit, more to chew on.
* The Lane, Reunion Shiraz 2003 Adelaide Hills
Opulent, sweet ripe fruit, fairly dances on the palate, fades a little quickly on the finish.
Shiraz
(matched with beef pie, based on Maggie Beer's Coorong Angus Beef Pie recipe)
* Penfolds, Magill Estate Shiraz 1999 Single Vineyard
Reserved and elegant, plenty of weight yet still light on its feet, smooth texture.
* Rockford, Basket Press Shiraz 1999 Barossa Valley
Great intensity and concentration a well-balanced package, real Barossa Shiraz.
* Best's Great Western, Thompson Family Shiraz 1998 Concongella Vineyard
Lovely fruit, still fresh and lively, showing some sweet hints of age, great length.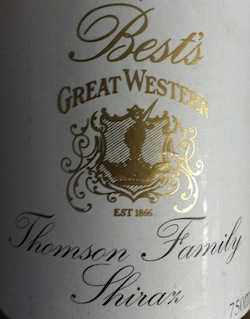 Riesling
(matched with Pavlova, mixed fruits including kiwi)
* Matariki, Late Harvest Riesling 2000 Hawkes Bay
Compelling spicy orange nose, palate gentler, lovely fresh sweetness, not cloying.