Wine Fraud!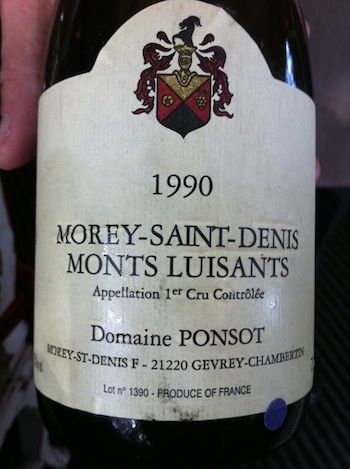 Fake
: a thing that is not genuine; a forgery or sham.
Counterfeit
: a fraudulent imitation of something else.
Call them what you will but the bottles of Domaine Ponsot wines consigned for sale at an Acker, Merrall & Condit auction in New York on 25th April 2008 were definitely not genuine. Most definitely not. The owner of the domaine, Laurent Ponsot, was there to say so and he didn't even have to carry out a detailed examination of the bottles to prove his point. He only had to state bluntly that the '1929' Clos-de-la-Roche couldn't possibly be genuine because the domaine only started to bottle that wine in 1934. In all, 22 lots of 'Ponsot' wines were withdrawn from the auction and from that moment perhaps the greatest wine fraud ever perpetrated began to unravel slowly.
A year ago I'll bet there wasn't a wine lover in a hundred who had heard of Rudy Kurniawan. How times change. At the time of writing, a Google search for his name generated 1.45 million hits, all thanks to his arrest by the FBI on 8th March last. He now stands accused of wine forgery on an epic scale. Given the career path he chose his background is suitably shady but he started making a name for himself in US wine circles in the early years of this century, buying and selling extraordinary quantities of the most celebrated wines on earth.
After his arrest a search of his house turned up an amazing array of blue chip wine labels, capsules, corks, old bottles and much more, including a hand operated corking machine. His arrest came just a month after serious doubts were raised about the authenticity of many lots in a Spectrum-Vanquish auction in London. Word on the street was that Kurniawan was the source of these wines (and the fake Ponsot wines and many others before them).
There are many who would contend that if he is found guilty he should be locked up and the key thrown away. However, heaping all the blame on him, turning him into a pantomime villain in the process, will simply give a clear run to his successor(s) in years to come. He was only able to get away with his deception because of wilful gullibility (tacit complicity?) on the part of others. The auction houses in particular need to be put under the microscope. How carefully do they check the provenance of old wines? Just enough to satisfy themselves that they will be able to sell them without any awkward questions?
The Spectrum-Vanquish auction is a good example. It was only when serious questions about provenance began to circulate on the internet that some of the more noxious lots were withdrawn. The whole thing should have been called off. Moreover, with the whiff of sulphur in the air why did the buying public support this auction instead of boycotting it? I think the problem is that everybody desperately wants to believe all ancient wines are genuine. Normal, rational standards of judgement go out the window when that is the case, leaving the door wide open for the forgers and their ilk. Kurniawan's arrest may have closed the door for the moment but it is not locked.
SO IT'S JUST PLONK?
No, it is more sophisticated than that. No self-respecting forger is going to fill prestigious bottles with any old rubbish. Take a hypothetical example. If 'Château Stunning Claret' 1982 is selling for, say, €3,000 per bottle and the 1981 and 1983 vintages are selling for €500 then a bottle of each of those could be bought, blended together and then re-bottled as two of '1982' and sold for €6,000. The labels and corks would need a bit of doctoring but there would be so much about the blend that was 'correct' that only the most expert palate might spot it.
PONSOT
If there is a hero in this murky tale then it is Laurent Ponsot who has devoted a huge amount of time and resources to uncovering fake wines and who has worked closely with the FBI to do so (and they deserve an honourable mention also). Ponsot has been described as an iconoclast and his wines can be idiosyncratic, none more so than the Morey-Saint-Denis, Monts-Luisants 1er cru blanc, which is made from the often-overlooked Aligoté grape. He is also the largest landholder in the grand cru Clos-de-la-Roche and after a few shaky years this wine is now right back on song.
CURIOUS TO KNOW MORE?
This has been the wine story of the past year, generating vast amounts of coverage and attention, particularly in the blogosphere. If this topic fascinates you and you have a week or two to spare then check out the four thousand plus posts here:
http://www.wineberserkers.com/forum/viewtopic.php?t=61172
Article originally published in the Jan/Feb 2013 issue of Food & Wine Magazine.