World Gourmet Summit - Singapore
The double-decker Airbus A380 really is a big plane and you only realise how big as you wait in the departure lounge ready to board, along with hundreds of other passengers who, you tell yourself, must obviously be destined to board three or four separate flights. Not a bit of it. The plane easily swallows up a crowd that looks as if it could go a long way towards filling the Aviva Stadium. Apart from that it is pretty ordinary, much like any other plane, unless, that is, you are sequestered in luxury up front, a treat that will have to wait for the day I win the Lotto.
Singapore Airlines' legendary smiling service is a reality, meaning that when I arrived at Changi Airport after an overnight flight I was in finer fettle than might be expected. The airport is hushed and efficient and the cavernous arrivals hall easily absorbs the noise generated as thousands of passengers pass through. Many Irish people only know it as a bleary-eyed stopover on the way to or from Australia, where some mindless duty free shopping is indulged in to pass a few hours before re-boarding. It is far better, however, to break your journey for three or four days and get a real flavour of what Singapore has to offer.
WORLD GOURMET SUMMIT
The World Gourmet Summit, held annually in Singapore since 1997, is the brainchild of Peter Knipp, a German-born chef who first saw service in the kitchens of the Berlin Hilton, before finally hanging up his whites after a five-year stint as executive chef at Raffles Hotel. The summit is a two-week-long event featuring masterclasses, cookery demonstrations, tutored wine tastings with châteaux owners, themed dinners, a champagne brunch that could feed the five thousand and a grand charity dinner. In its own words it is, "an international gastronomic extravaganza," and, allowing for a bit of hype, that is a fairly accurate description.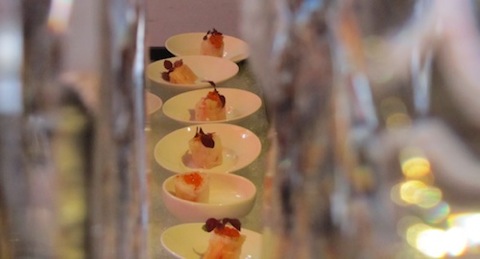 Tasty treats photographed through an ice sculpture at the champagne brunch.

Over the years it has featured a roll call of chefs who can lay claim to a constellation of Michelin stars between them, led by the man who is possibly the best-known chef of them all, Ferran Adria. Others who have participated in the last decade include: Bruno Ménard of L'Osier in Japan, Michel Rostang of the eponymous restaurants in Paris and elsewhere, Cheong Liew of The Grange, Adelaide, Alain Llorca of Moulin de Mougins and the ubiquitous Antony Worrall Thompson. At this year's event we Irish were well represented by Kevin Thornton, guest-cheffing for a week in the kitchens of mezza9 at the Grand Hyatt Hotel, and Rachel Allen whose charms as a presenter were much in evidence at the masterclass she conducted.

An equally revered list of wineries has featured at the summit over the years: Opus One from California, Château Léoville-Poyferré from Bordeaux, JJ Prum from the Mosel Valley, Paul Jaboulet from the Rhône Valley and this year, perhaps most memorably, the urbane and entertaining Olivier Bernard of Domaine de Chevalier in Bordeaux. Bernard hosted a masterclass at which he presented a selection of his wines going back as far as a soft and satisfying 1970. The flow of anecdotes continued at dinner later but nobody should be fooled. His style is light but it is not flippant; great passion, enthusiasm and expertise lie just below the surface.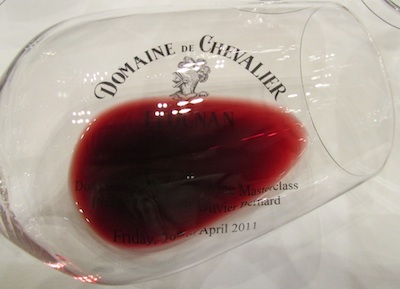 The dates for next year's summit are: 23rd April to 6th May. More information: www.worldgourmetsummit.com

SHIRAZ SHIRAZ SHIRAZ
If there is one grape that is ineradicably linked in the public mind with Australia it is Shiraz and who better to explain its intricacies and nuances than James Halliday, world-renowned wine communicator and one-time winemaker? For this tasting, held as part of the WGS, a dozen of Australia's best were on display, accompanied by a tasting sheet that quoted liberally from Halliday's already published notes on the wines. "I should say, I heartily disagree with some of my own tasting notes," he announced before treating his audience to the benefit of his huge depth of knowledge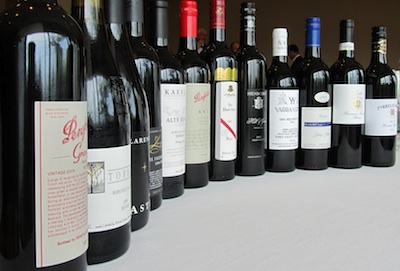 The line-up for the Shiraz tasting.

There were a couple of standout wines and inevitably Penfolds Grange 2004 was one of them, though it is still a mere pup: "Dark black fruits and dry, grainy tannin. Un-knit but great length gives a hint of things to come in a decade or so." Also impressive but in a completely different style, was the Yarra Yering, Dry Red No 2 2006: "Oh so different! Leather and earth, softly textured, a gentle delight." The Henschke, Hill of Grace 2005 was no slouch either with its "delicious freshness". Less to my liking was the d'Arenberg, The Dead Arm Shiraz 2006: "Fairly leaps out of the glass, big and plush but a little one-dimensional." What the tasting proved, above all else, is that Aussie Shiraz is not the one-trick pony it is often portrayed as and for that alone it was a very well worthwhile exercise.

CHICKEN RICE
No tour of Singapore is complete without a visit to Chinatown and while there, as everybody will tell you, you must, simply must, try the local speciality: chicken rice. The blue-bannered, 'Tian Tian Hainanese Chicken Rice' stand is reputed to serve the best version in town and it proudly displays a somewhat luke-warm endorsement from chef-turned-author Anthony Bourdain "Chicken rice is so fragrant and delicious that it can be eaten on its own." In truth it is a perfectly pleasant, though hardly memorable, dish of chicken poached with herbs and served with rice.

BUDDHA TEMPLE
After your chicken rice lunch it is only a short walk to the Buddha 'Tooth Relic' Temple, so named because it was built to house said relic. Work on the temple started in 2005 and it opened to the public in 2007. It consists of an eye-wearying riot of gold leaf and red paint spread over six floors. Despite this, and the shuffling crowds, it manages to exude a serene and tranquil air – after the sticky heat of the street could the deliciously fresh, air-conditioned atmosphere have anything to do with it?

If you still have the energy take yourself shopping in the markets for 'genuine' and 'finest quality' pashminas and the like. As with all such places around the world you can bargain away to your heart's content, safe in the knowledge that no matter how low the price goes you are probably still being ripped off.


SINGAPORE IN ONE HOUR
It bills itself as the 'Highest Al Fresco Bar in the World' and if your time in Singapore is extremely limited, yet you still want to be able to claim that you have "seen the city" then get yourself to the 1-Altitude Gallery & Bar, which occupies the top three floors (61st to 63rd) of the 1-Altitude building on Raffles Place. The best time to visit is just as the sun is setting when, from your 282-metre high eyrie, you can watch as the hazy dusk is transformed into a sparkling night time panorama. Most eye-catching of all is the Marina Bay Sands Hotel, consisting of three separate towers united at the top by a 'ship' that straddles them and features a huge, vertigo-inducing, infinity pool. The hotel, which has 2,560 rooms, was opened just last year and is said to be the most expensive ever built at a cost of £4 billion.

STAY
Central and civilised, with an impressive level of smiling service and polite enquiry about anything that you might need, probably best sums up the Conrad Centennial Hotel. The service here, and almost everywhere in Singapore, is a wonder to behold, especially for those of us used to battling with the grim and surly version. Smiling and friendly, though not servile, attentive to every detail, able to get your laundry back in two hours, having promised it in four. I could go on. See: www.conradhotels.com

WEATHER
Singapore sits almost slap bang on the equator and the weather barely changes from one end of the year to the next. It can change rapidly from one hour to the next, however: bright sun, heavy rain showers and cloud cover that can seem interminable all feature in the mix. Thanks to the sticky humidity even the gentlest of exploratory strolls can leave you dripping. Pack some extra shirts.

RAFFLES HOTEL
Your pocket may not stretch to staying at the famed Raffles Hotel but that needn't stop you from enjoying some of what is has to offer. The secret is to stride confidently past the 'Residents Only' sign and resist the temptation to gawk. You can do that at a more measured pace from behind the newspaper that they will bring you with your coffee, always served with some irresistible biscuits.

Article first published in Food & Wine Magazine, Ireland, November 2011.