Waterkloof at Thornton's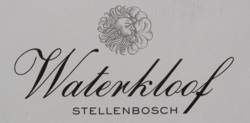 There was a time, just a few years ago, when I had completely given up on South African Sauvignon Blanc, not because it had turned into a grassy green caricature of itself, like some of its Kiwi cousins, no, it had gone in the other direction. In the process it became a lumbering flabby monster, drenched with alcohol and possessing not one whit of the freshness one wants from this grape. Then last week at a wine dinner in Thornton's Restaurant, Dublin I tasted the Waterkloof 'Circumstance' Sauvignon Blanc 2010 and my healthy, well fed prejudice had to be thrown out the window.
As I said to the winemaker, Werner Engelbrecht, I liked it because it did not exhibit too many of the characteristics we have come to associate with Sauvignon. My note from the evening reminds me of: "a gentle Sauvignon Blanc, nice sweet juicy fruit and lovely balance, fresh and appealing, not screeching and harsh, nor plump and plodding. In short, not too Sauvignon-like."
Kevin Thornton had only stepped off the plane from Singapore where he had been cooking at the World Gourmet Summit yet, in typical fashion, he was all smiles and quips with nary a hint of jet lag to be seen. The meal started slowly with red mullet and then lobster but really took off with the lamb course, which included kidney and sweetbreads. These latter are not, as some believe, male unmentionables, rather they include the pancreas and thymus glands and, as
ris d'agneau
, are hugely popular in France. Then it was up another notch to a dazzling dessert of 'Black Forest' with Kirsch jelly, cherry purée and a fromage blanc sorbet. It is seldom that I rate dessert as the best course of a meal and this one could only have been pulled off by a master such as Kevin Thornton. For how much longer will he be under-appreciated on his home shores?