The Douro Valley
As befits the world's oldest demarcated wine region, the Douro Valley makes mincemeat of any descriptive superlative hurled at it, no matter how poetic it might be. Established only by dint of soul-destroying toil in torrid summers and bitter winters, it can safely be asserted that if it was still virgin territory today nobody in their right mind would think of planting vines there. Recognition of the on-going human effort in harnessing the natural potential has come in the form of designation as a UNESCO World Heritage site and today, after centuries of inaccessibility, the Douro is very much open for visitors.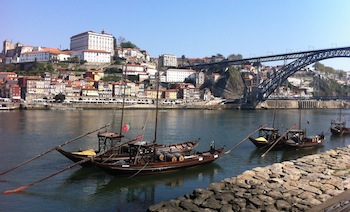 Looking across to Porto from Vila Nova de Gaia

That was barely the case when I first visited towards the end of the last century. Apart from the odd high spot on the accommodation and culinary fronts, the sleeping was basic and the eating hobnail. If that's what turns you on it can still be found but such an approach to a Douro visit would be foolishly puritan. Better to start with a meal at the impressive DOP Restaurant in Porto where, amongst other treats, chef Rui Paula makes octopus into an appealing dish and not something fit for a Bridgestone tyre. Pop across the river to Vila Nova da Gaia to visit one of the Port Lodges, perhaps Sandeman where, in the small museum, an advertisement from The Irish Times of Saturday, 6th March 1909 reads: "There is no wine like Pure Port Wine for invigorating the delicate and sustaining the strong." Quite.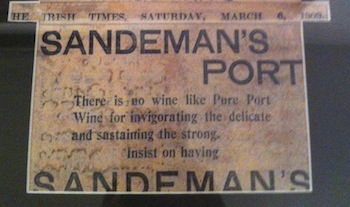 If time is short the journey by road to the Douro proper will take about two hours, finishing with dramatic twists and turns as the road wriggles like a snake. Better to go by train, rattling and groaning out of Porto, and hugging the river bank so closely in places that you feel you could reach out and touch the water. And if time is long go by boat, meandering upriver between banks of terraced vineyards that will set your jaw permanently a-drop.

You can stay at a real, live working winery such as Quinta Nova (www.quintanova.com) in the Cima Corgo sub-region, where there is even a tiny private chapel should you need to atone for any excesses of consumption. From the shade of the tasting room the view across the vineyards vies for your attention with the wines themselves, the most impressive of which is the 'basic' Colheita Douro 2010, a balanced brew of floral, herbaceous and mineral notes. Further up the price scale the flavours run towards greater fatness and volume that is impressive though less appealing.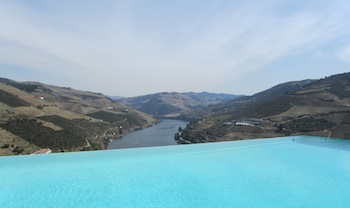 Infinity pool at Quinta do Crasto

Resist the call of the sun lounger in favour of further exploration, making sure to go as far upriver as possible, where the scenery becomes ever more rugged, resembling a barren moonscape in places. Surroundings of a less inhospitable nature are to be found at Quinta do Crasto, where the wines are sure-footed and confident, and the view across the infinity pool is one of the finest in the world. To finish a Douro visit here while sipping a glass of chilled white and munching on toasted almonds is to feel very close to heaven itself. You will want to return, believe me, you will.

DISCOVER THE ORIGIN
It's all about provenance: Discover the Origin is a promotional campaign designed to heighten consumer awareness of five of Europe's most prized foods and wines. The quintet comprises: Parmigiano-Reggiano cheese, table wines from the Douro Valley, Burgundy wine, Parma Ham, and Port (also from the Douro). The aim is to hammer home the message that it is not 'Burgundy' or 'Parma' unless it comes from the designated region of origin and accords with all the relevant regulations concerning production and so forth, thus guaranteeing authenticity. Whether this always equates to top quality is another matter – there is still too much pedestrian Port and limp-wristed Burgundy produced to convince this writer, though the initiative is certainly a step towards rectifying this.
www.discovertheorigin.co.uk

TABLE WINE OR PORT?
The decline in the popularity of Port drinking after dinner in recent decades has forced the producers to devote some of their resources towards the production of table wines. Many of the early efforts were clod hopping, Port posing as table wine as it were, but now these wines are some of Portugal's most exciting, with well-defined flavours rather than the soup of yore. Names to watch out for include: Quinta do Vallado, Quinta do Vale Meão, Niepoort, Duorum, Castello d'Alba, Quinta da Cassa, Quinta Fafide, Quinta da Romeira and Churchill's Estates.

Do not, however, forget Port. At its glorious best, such as a Graham's 1970 received as a gift years ago and drunk recently, it is incomparable, a paean to centuries of effort by winemakers and peasant labourers alike.

Article originally published in Food & Wine Magazine, November 2012.