Tasting at La Mission
Last Friday was gloriously sunny in Bordeaux, perfect for a stroll through the vineyards at Château La Mission Haut-Brion where the recent renovations are now complete. Meanwhile, across the road at sister property Château Haut-Brion, a major restoration programme is underway, meaning that it is closed to visitors and the wines of both châteaux are tasted at La Mission. This is no hardship. From cloister to chapel to chai to magnificent, light-filled tasting room the place is immaculate and the tasting is meticulously choreographed with a glass for each wine – monogrammed according to château – an elegant, spiral-bound tasting booklet and as much technical information as anyone could possible need. But what of the wines?.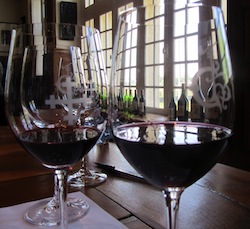 I was tasting the 2011 vintage, upon which not even the most deluded PR spinner could bestow the term 'vintage of the century'. It was tricky and taxing yet word from the en primeur tastings was that the team at La Mission and Haut-Brion, led by Jean-Philippe Delmas, had turned out something worthy of note. And so it proved. For me there was barely a hair's breadth between the two. The La Mission (55% Cabernet Sauvignon, 34% Merlot & 11% Cabernet Franc) was tough and foursquare with the fruit well hidden by the strident tannin but crucially the tannins were not jagged and there was oodles of fruit once you went looking for it. The length on the finish was impressive too. As ever, the Haut-Brion (46% Cabernet Sauvignon, 35% Merlot & 19% Cabernet Franc) was a little gentler and more rounded, better integrated with seductive fruit and dusty tannins. Again, the length was impressive.

Perhaps the greater strength of the La Mission will eventually see it overshadow its sibling. If fairy godmother was buying I think I would choose it, but only just.