Super Semillon
I had the great pleasure of leading an Australian Semillon masterclass at the recent Wine Australia tasting day in Dublin. It was no hardship, none at all. Ever since visiting the Hunter Valley in 1997 I have been an avid fan of the unique, chalky-dry-in-youth, toasty-in-age Semillons that are produced there. The net was thrown a little wider for this masterclass and, included in the half-dozen wines, were two from the Barossa, three from the Hunter and one sweet number from Riverina.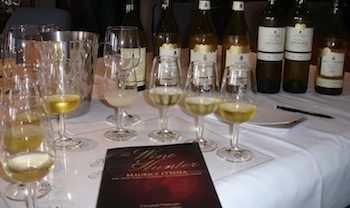 Tasting Semillon at McWilliams Mount Pleasant

I concluded my Hunter Valley visit in 1997 with the words:
"Aged Semillon is certainly the find of the trip but I feel it will remain a niche wine. It doesn't provide easy, inoffensive, undemanding drinking, you have to pay attention." This remains just as true now as it did then.

The line-up:

1) 2005 Peter Lehmann Classic Semillon, Barossa Valley 11.5%
Pale straw-green. Flinty clean and remarkably youthful. Lemon and grapefruit, very fresh, nice acid. Hardly showing any signs of age.

2) 2001 Peter Lehmann Reserve Semillon, Barossa Valley 12.5%
Now labelled as 'Margaret' Semillon, after Peter Lehmann's wife. Aged for five years prior to release. Green-tinged gold. Still fresh citrus but also toasty, nutty notes and mild smoke. Remarkably youthful. Some honey. Mineral core.

3) 2005 McWilliams Elizabeth Semillon, Hunter Valley 12%
Currently my 'default' white wine. First released as 'Hunter Riesling' in 1967, correctly labelled since 1982. Gorgeous taut, chalky dry citrus acidity. Fantastic purity of flavour. Still youthful but showing signs of development, fattening in the mouth, mild honey.

4) 2005 McWilliams Lovedale Semillon, Hunter Valley 11.5%
Lovedale vineyard first planted in 1946 by Maurice O'Shea. Same bone structure as Elizabeth but a fuller figure. Not as advanced as the Elizabeth, more taut and closed. Fantastic intensity and depth of flavour. Great length.

5) 2000 Tyrrell VAT 1 Semillon, Hunter Valley 11.1%
Family owned and established in 1858, now run by fourth and fifth generations. First vintage 1963. Cork closure but mercifully unaffected by it. Incredibly youthful. Fabulous depth and length. Great intensity. Still a pup with no signs of age as yet. Acid still shrill.

6) 2007 Deen De Bortoli VAT 5 Botrytis Semillon, Riverina 11%
Lovely peaches and apricots with some caramelised orange. Rich but not unctuous. Sweetness balanced by mouthwatering acidity. Good length.