St Petersburg - World Orchestra for Peace
It is May 2003 and St Petersburg's famed Mariinsky Theatre is getting a facelift. An ocean of mint green paint has been applied to the vast exterior and now the finishing touches, in the form of white highlights, are being daubed on by a lady with a minute brush. She's probably still there.
I am here with my wife, violinist Fionnuala Hunt, who has been invited to co-lead the World Orchestra for Peace, under the baton of Valeri Gergiev. The orchestra is composed of orchestral leaders and principal players invited from orchestras across the globe. They will play a gala concert in a few days' time to kick start St Petersburg's 300th anniversary celebrations. It's a singular honour for her but right now, as she prepares for another rehearsal, I suspect she secretly envies the three days I have to roam the city unfettered by any commitment other than a desire to see as much as possible.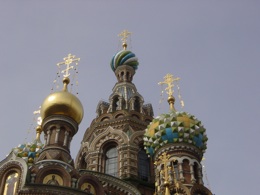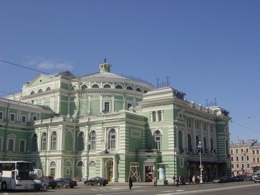 Left: the Cathedral of the Saviour on the Spilled Blood. Right: the Mariinsky Theatre.

St Petersburg is a city like no other. At street level a ramshackle air pervades it. Patched up trams trundle by on bent and misshapen tracks, their wheels screeching and howling as a corner is turned. The street shudders under your feet and derailment seems certain but somehow they make it and you can breathe easy again. Prevailing winds keep clouds of dust on the move giving the streetscape a shabby, unkempt appearance. But when your eye tires of this drab prospect simply let your gaze travel upwards and you will be transported to another world. A wonderland of gold domes and fantastically ornate facades on dozens of palaces, museums and cathedrals is there to be enjoyed for free. Again and again I was stopped in my tracks as I turned another corner, glanced along a side street or simply looked up and there before me was another splendid vista that left me lost for adequate superlatives. I know of no other city where simply roaming the streets at will, following no set route, uncovers such a treasure trove of sights.

Most fantastic of all is the Cathedral of the Saviour on the Spilled Blood, an exotic concoction of multi-coloured domes, gold leaf and mosaics that even the most talented pastry chef would be hard pressed to imitate. It gets its macabre name from the fact that it stands on the spot where Tsar Alexander II was assassinated in 1881 and is famed for having taken 24 years to build and 27 to renovate before it re-opened in 1997. The interior is splendid in its own way but it is the multi-faceted, fairy-tale exterior that leaves the jaw trailing the ground. To gain access visitors pay an entrance fee that is several multiples of what locals are charged and if you want to use your camera that will be extra. This system pertains almost everywhere and while one might bridle when first coming across it, on reflection it only makes sense.

Depending on how you look at it St Petersburg is blessed or burdened with a cultural inheritance that is splendid to behold but also ruinously expensive to maintain. In the past few years hundreds of millions of dollars have been spent getting the city shipshape for its birthday, yet much remains to be done and many areas of infra-structure cry out for attention. If some much needed money can be raised for the preservation of the city's sights by squeezing visitors for decent entrance fees, then so be it, for it is those self same visitors who will kick up a racket should the city fathers neglect their inheritance in favour of more mundane projects.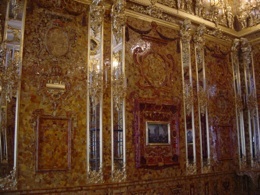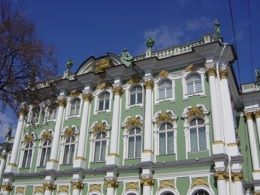 Left: the Amber Room. Right: a corner of the Hermitage.

Cultural events are no different and in the lobbies of the swanky hotels such as the Astoria or the Kempinski Grand tickets for the World Orchestra's concert were advertised at US$150. They take their culture seriously in St Petersburg and even without a connection to the orchestra it would have been impossible not to notice that a major concert was in the offing. Huge posters of the conductor, Gergiev, who is treated like a national hero, festooned the streets. He looked wild and unkempt but my wife assured me that when it comes to conducting he is top-notch.

An afternoon off from rehearsal afforded an opportunity for the players to catch up on their sight-seeing and a tour was organised to Pushkin, or Tsarskoe Selo. (The names are used interchangeably, the latter is the original but was changed to Pushkin in 1937 and these days nobody seems sure what to call it.) This is a massive palace and parkland complex some 25km from St Petersburg. The palace, built for Catherine the Great, bore the full brunt of the Germans' depredations during World War Two and was left as nothing more than a ruined shell. Restoration has taken decades and the famed Amber Room only re-opened the day before we visited.

At the entrance it was decreed that all bags and luggage of any sort had to be deposited in the cloakroom, which left the violinists in the group with a dilemma. Many of them play on instruments that are a couple of hundred years old and hence of high value. There is a limpet-like bond between them and their violins and they are never let out of their sight. Thus it was that a handful of them contented themselves with a walk around the gardens while the group toured the palace. Security was as tight as at any airport and once past it we donned soft textile overshoes before we could proceed. "An easy way of getting the floor polished", as one wag observed.

The imperial splendour of the place defies description. Gold leaf and exotic decoration are everywhere. Room after wondrous room awaits the visitor. The eye is drawn this way and that by competing treasures until eventually a feeling of overkill asserts itself. The senses can only take in so much until they are sated, weighed down by all about them. The mood changes to one of casual indifference and vistas that would normally be greeted by gasps of astonishment or awed silence are barely glanced at. "More gold leaf" was the jaded reaction as one of the musicians glanced casually into the umpteenth gilded and mirrored room. But the Amber Room stopped everybody in their tracks. Here, almost every square inch of wall space is encrusted with mosaics of amber, agate and jasper that combine to give a deep, honey-hued ambience. As if that isn't enough any remaining space or object is covered in gold leaf with a few mirrors thrown in for good measure. All you can do is stop and stare. And stare…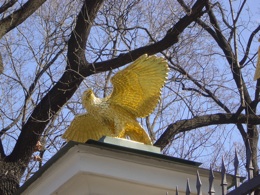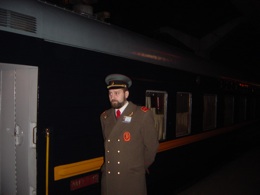 Left: more gold leaf. Right: all aboard the night train for Moscow.

Back in the city itself on the final day I frantically embarked on a "wrap-up" walkabout to take in the remaining sights. By the time of the concert my feet could take no more. Aching and weary I attempted to walk straight to the Mariinsky, yet still my instinct to see as much as possible betrayed my better judgement and I constantly diverted up side streets to check out just one more sight. Eventually I got there, collected my ticket and settled gratefully into my seat in the stalls. Six tiers of boxes wrapped around me, framing the vast stage. The music was as grand as the surroundings. Prokofiev's Ode to the End of War was dramatic and powerful while Stravinsky's Petrushka was captivating and full of energy. The response from the audience was rapturous and again and again they demanded Gergiev's presence on the podium for another bow and more flowers from adoring ladies in the front rows.

The exultant mood carried over to the post-concert party and then it was time to make a dash for the overnight train to Moscow. Four coaches escorted by police carried the orchestra and a mountain of musical luggage through a host of red lights. At the station there was a mad scramble to get aboard on time. Double bass players struggled with their sarcophagus-like cases. Oaths were sworn in many languages but everybody made it with a minute or two to spare. Shortly after midnight the train departed and moments later the passengers sank into a remarkably good night's sleep.

TAXI!
Walking is by far the easiest and most rewarding way of getting around St Petersburg but if your journey is too long then you may enjoy the adventure of getting a taxi. Official ones have a chequerboard stripe down the side and a green light in the front window. They even have a meter but this is for decoration only. You haggle over the price, resorting to scribbled figures if your Russian and his English are not up to the task. Alternately, you simply stand in the street and stick out your arm. Someone in some sort of four-wheeled vehicle will stop and offer to take you to your destination – for a fee. It's quite safe and after the first couple of times you find yourself doing it without even thinking.

THE HERMITAGE.
You haven't been to St Petersburg until you have visited the Hermitage. Few would dispute that it is possibly the greatest museum in the world. Its treasures are virtually limitless and at any given time only five per cent of its collection is on display. Even seeing all of this could take months. Hence a half-day visit is somewhat akin to seeing a single still from a feature-length film. Go anyway, and when the succession of riches threatens to overwhelm you make for the French 19th and 20th century masterpieces that hang, almost unprotected, on drab grey walls. They need no adornment. Feast your eyes on them and then permit yourself a wry smile when you spot the notice that proclaims: "From German private collections transferred after World War II." Quite.

WHERE TO STAY.
At the high end the Kempinsky Grand Hotel Europe and the Hotel Astoria offer all the luxury and services you would expect from any western five-star hotel. The Kempinski is located just off the principal thoroughfare, Nevsky Prospekt. (www.grandhoteleurope.com) The Astoria (www.thehotelastoria.com) can be found within a stone's throw of St Isaac's Cathedral. A room in either will set you back a couple of hundred euro per night.

More affordable by far is the Hotel Oktyabrskaya. (www.oktiabrskayahotel.ru/eng) It is brilliantly located opposite Moscow Station. The rooms are clean and tidy if a trifle frumpy.

Further down the price ladder is the Oktyabrsky Filial, an associate of the Oktyabrskaya. Shabby but clean.