Riesling & Foie Gras
On the page it read like a train crash, on the plate it looked more appealing and on the palate it sang like a nightingale, especially when matched with a glass of JJ Prüm Wehlener Sonnenuhr Riesling Spätlese 2008, introduced by the lady herself, Katharina Prüm. I speak of a dish described as: "Scallops in a foie gras and spaghetti shell," served at dinner last week in the Brasserie les Saveurs at the St Regis Hotel in Singapore. In short, it was the best dish I enjoyed over the course of five days spent at the Far East's gastro-fest, the World Gourmet Summit.


The Prüm nameplate set in stone.

Prepared by one-star Michelin chef Serge Vieira from France, it was wonder of delicate, counterpoised flavours that simply should not have worked together but somehow did. Add in the delicate, tingling-fresh sweetness of the Riesling and I was as well prepared as I could be for the dreary overnight flight home, which followed immediately after the dinner.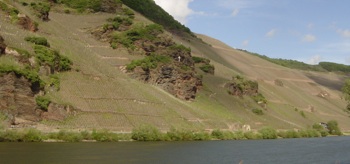 Steep Mosel vineyards.

Last night the experience was almost replicated here in Dublin, at l'Ecrivain Restaurant, where Dirk Richter of Weingut Max Ferd. Richter hosted a dinner featuring a quintet of his wines. Wine of the night, without any shadow of a doubt, was the amazingly youthful Graacher Domprobst Riesling Auslese 1993, but food pairing of the night went to a match that was seamless and sublime. From the one-star Michelin hand of Derry Clarke came a superb duck liver parfait and from one of Richter's finest vineyards came a Brauneberger Juffer Sonnenuhr Riesling Spätlese 2004. Separately, each was delicious, together they made the strongest possible argument in favour of some thought being put into the too-often haphazard process of food and wine matching. It need not be elevated to some sort of pseudo-science but ignoring it entirely does a disservice to chefs and winemakers alike.