Remoissenet Revival
When I first became interested in Burgundy Remoissenet was a name to be avoided, along with others such as Mommesin, Chanson and Maufoux. However, the great thing about Burgundy is that, despite appearances to the contrary, it is always changing, like a slowly turning kaleidoscope. The result is that a correctly held opinion, written in stone today, can be turned to dangerous fallacy by the events of tomorrow. And 'tomorrow' arrived at Remoissenet a few years ago when long-time patriarch Roland Remoissenet sold the business to a group of American investors, with Louis Jadot also taking a small holding.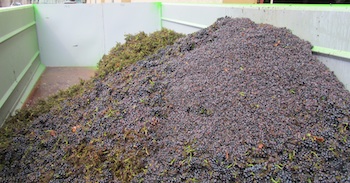 Discarded grapes at Remoissenet, 1st September 2011.

Included in the deal, it might be said, was the new boss, Bernard Répolt, who only had to move a short way along rue Spuller in Beaune, from his desk at Maison Jadot to take the reins at Remoissenet. Visiting him there is like stepping back in time and it's not the hessian fabric on the walls, nor the ancient Aubusson tapestry that makes you feel so. It is the typewriter, apparently still in use, that I spotted on one of the desks. Wow!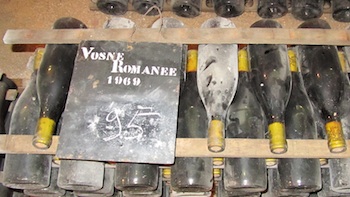 Old stocks at Remoissenet.

Répolt's business card used to proclaim him as 'Le Rogue de Burgundy'. If anything, that was an understatement. Today, however, he is a little quieter and the torrent of unprintable quotes has slowed, but there is still a twinkle in the eye. We do a lightning tour of the cellars, inspecting thousands of bottles of old vintages dating back a half-century or more, before moving to the winery that lies outside the périphérique.

Here, the new broom is very much in evidence in the form of brand new oak vats and a sorting table manned by 10 people. A man of rugby-prop-forward dimensions is calling the shots. It is Pierre-Antoine Rovani who once served as Robert Parker's man in Burgundy and as he joins us the discussion turns to the substantial quantity of grapes that are being discarded in order to wrest some good wine from the 2011 harvest where under-ripe, fully ripe and rotten grapes are all to be found on the vines. The winemaker is Claudie Jobard whose mother, Laurence, served for decades as winemaker at Joseph Drouhin. With a team like that in place it is now time to move Remoissenet from the 'Could do Better' pigeonhole to the one marked 'Watch this Space'.