Pichon '29
The Wall Street crash was just around the corner when the grapes for this wine were being harvested almost 82 years ago, so it seems fitting that it should be consumed with the world still staggering from the effects of the latest economic crisis. It was superb, so fine in fact, that it could have buoyed up the most troubled of spirits and banished, for a few moments at least, all fiscal woes.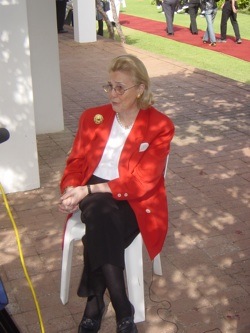 May-Eliane de Lencquesaing being interviewed at the Nederburg Auction, South Africa, 2004

Two bottles were served at a recent wine dinner and both were very much alive, though one was superb where the other was passably good. While both were delicate one might best be described as delicate yet vigorous while the other was delicate but frail. Luckily I tasted the latter first and was then able to revel in the extraordinary elegance and balance of the former. Beautiful 'sweetness' and fresh acidity made it an absolute joy to drink. It was best appreciated whole and not dissected and over-scrutinised. It was stunning.

Both bottles had been bought direct from the château about 15 years ago and a close examination of the corks revealed that the wines had been re-corked in 1981, thus explaining the corks' remarkably good condition. Back then of course Pichon-Lalande was owned by May-Eliane de Lencquesaing, who sold the château to Roederer in 2006. People still talk of a visit she made to Dublin a dozen or more years ago to host a dinner in the old l'Ecrivain restaurant. At her insistence the wines were served commendably cool and certainly not at 'room temperature' – a point well worth remembering here in Ireland where we have a tendency to serve white wines too cold and reds too warm.