Oz Shiraz at WGS, Singapore
James Halliday had them chuckling at yesterday's Australian Shiraz tasting when he announced, shortly after it got underway and the first flight was being scrutinised: "I should say, I heartily disagree with some of my own tasting notes." (These had been printed in advance on the tasting sheets.) This happens to wine tasters all the time and, far from being seen as a sign of inconsistency, it simply reinforces the fact that a tasting note reflects how a wine tasted at a particular place and time and no more than that. Tasting notes should not be treated as judgements written in stone. Wines change and so do people. Context, as they say, is everything.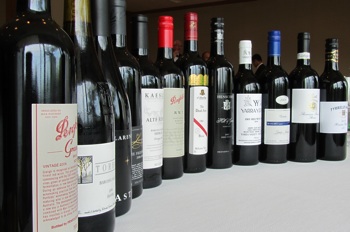 Hearty, palate-thumping Oz Shiraz is a one-trick pony, right? So says the stereotype but one sniff of the fourth wine in yesterday's line-up was enough to banish that sort of lazy generalisation. I had smelt it without noting what it was but was hardly surprised when I saw it was 2006 Yarra Yering, Dry Red No 2, made by the late Bailey Carrodus. "Lovely sweaty earth on the nose, smooth textured palate, no tingly peaks, just a seamless surge of flavour, leather and herbs, fine tannin, yum!" There were some other standouts, notably the 2005 Henschke, Hill of Grace: "Soft, rich fruit nose, palate firm, classy gentle spice and savour, restrained, finishes beautifully fresh."

Less satisfying was the 2008 Penfolds RWT: "Perfumed, plummy fruit nose but palate seems aggressive – youth? Hard tannins in the ascendant." Its older sibling, 2004 Grange, was bountiful in every department: "Spicy, sweet heady fruit on the nose, palate of dark, black fruits, grainy tannin, un-knit as yet, good length promises a great future." For full-throttle enthusiasts there was the 2004 Torbreck, Run Rig: "Plump, chocolate fruit on the nose carries onto the palate, lavish, sumptuous wine, warm finish."

That's all I have time for right now. It's all go at the World Gourmet Summit in Singapore where Mayday is about to be celebrated with a Roederer and Norwegian Seafood Brunch.