Oz Shiraz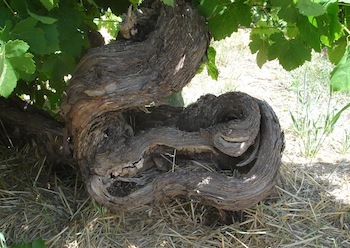 The winemaker looked at me: "You don't want to taste my wine, do you?" "No," I muttered weakly, wondering what was coming next. "But you'd kill for a cold beer?" "Yes," I hollered. It was late afternoon in Australia's Barossa Valley and I had arrived at the St Hallett winery for my final visit of the day. After a day-long assault from massively concentrated wines, gums and jowls were battered, feeling like they had been to the dentist – and he had gone heavy on the anaesthetic. The bitter-cold prickle of a Coopers Pale Ale soon put that to rights. As they say in Oz: "It takes a lot of beer to make good wine."
The old stereotype of Australian Shiraz, given shape in the eighties and cast in stone in the nineties, was of a whopping wine, long on heft and short on subtlety. It was known for pummelling the palate in much the same way as deafening music batters the eardrums. In some cases the music was good but with the volume so high it was impossible to tell.
That stereotype casts a long shadow and it's not hard to find wines that still play 'pound the palate', but this is only part of the story now; with the dawn of the new century a less simplistic, more nuanced picture began to emerge.
It was on display in Dublin recently at a tasting which showcased 14 Shiraz wines from across Australia. Certainly, there were some clunkers – a ho-hum Wakefield 2010 and a cosmetically-fruited Schild Estate 2009 spring to mind – but these were the exception.
More impressive was the Ferngrove Frankland River from Western Australia, which boasted a 'coolness' to the flavour, a lack of aggression, that invited repeated sipping. There's richness in there but some reserve too, making for a well composed wine that doesn't come roaring out of the glass. (Ferngrove, Frankland River Shiraz 2008 14% €15.99. Stacks, Listowel; Deveneys, Dundrum; Mill Wine, Maynooth.)
Missing from the line-up, but tasted frequently over the past year, was the St Hallett 'Faith' from the Barossa Valley. The Barossa is Shiraz's stonking heartland and is home to some of the oldest vines in the world, wizened veterans of a hundred or more harvests. But hey! This wine hasn't been at the steroids and the result is greater freshness. It's still big, with oodles of ripe fruit, but it comes in a well-balanced package. (St Hallett, Faith Shiraz 2008 14.5% €15.99. Redmonds, Ranelagh; O'Briens; La Touche Wines, Greystones; Sweeneys, Glasnevin; Donnybrook Fair; booze.ie.)
Star wine of the tasting was the Gatt High Eden Shiraz 2009, which has yet to make it to these shores. The only true test of a wine's quality is to drink some, so I snaffled a half glass to go with lunch and it held up beautifully, effortlessly delivering on its earlier promise. Any importers searching for a premium Australian wine should jump at this. It would hit our shelves at about €40. Cheap? No. Value? Yes.