Mouton Magnums
"I hope the Mouton Collection is enjoyed by the new owner, who I believe is from Asia." So said singer Chris de Burgh earlier today when I contacted him about the sale this week of an extremely rare collection, from de Burgh's cellar, of magnums of Château Mouton-Rothschild spanning every vintage from 1945 to 2005. The price paid was £155,250 (€178,538, $251,660).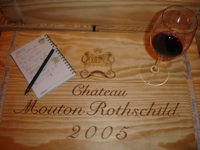 It's no secret that blue-chip Bordeaux has been fetching extraordinary prices in the auction rooms recently, principally driven by voracious demand from Asia that shows no sign of abating. This collection is book-ended by two superb vintages, the first of which is often referred to as one of the greatest clarets ever made. Michael Broadbent has described it as, "a Churchill of a wine," before going on to add: "There is simply no other wine like it." The label is surmounted by a 'V' for victory, by the artist Philippe Jullian, and since then a roll call of famous artists have executed works for the labels, including Dali, Miró and Bacon. Thus the new owner has bought himself something of an art collection as well as a wine collection.

Not all of the vintages are as stellar as the 1945 and the 2005 and there is certainly a generous handful of duds in there such as 1992, 1987, 1977, 1974, 1973, 1972, 1969, 1968, 1967… The weather gods may not have smiled on many of these vintages but Mouton and the other Bordeaux first growths are supposed to be the very best châteaux, with the resources necessary to at least make acceptable wine in the face of difficulties such as bad weather. Quite how they get away with producing so many less than stellar wines without damaging their reputations, or their ability to charge high prices, is beyond me. Thankfully, recent years have seen greater consistency.