Best Value Ever
Hurry! Hurry! Hurry! Very probably the best value wine offer I have ever come across lasts for only a few more days at Tesco. Mount Pleasant 'Elizabeth' Hunter Valley Semillon 2005 is reduced to €9.99, with a further 5% off if you purchase six bottles. Do whatever is necessary to secure some of this wine: break open the piggy bank, spend the confirmation money, sell the car.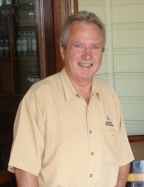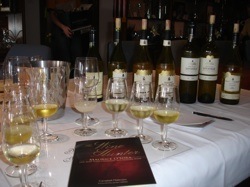 Left, Phil Ryan and,right, tasting at Mount Pleasant, March 2006.

Hunter Valley Semillon is a classic and is one of the very few wine styles that is uniquely Australian (Rutherglen Muscat is another). 'Elizabeth', made by the talented Phil Ryan, is one of the best expressions of the style. I first met Ryan back in 1997 and, thanks to the tasting he put on that day, I fell hook, line and sinker for Hunter Semillon. Eschewing the normal winery tour – one stainless steel tank looks very much like another one – he sat me down with nine vintages of the wine and then we spent the guts of an hour tasting and re-tasting, comparing and assessing.

The wine currently on offer is still fresh and youthful at six years of age, with at least another decade's development ahead of it and I have spent the past month encouraging all my friends to buy it. Is there a caveat? Not as far as I am concerned but I would suggest that you purchase one bottle and sample it to see if you like the style. This is not a middle-of-the-road wine, made to offend no palates; this has something to say for itself. It is lemon fresh, chalky dry and blessed with a relatively modest 12% alcohol. Should you have the forbearance to squirrel away some bottles for a few years you will be rewarded with lovely honeyed, toasty notes on top of the tingling acidity.

A sibling wine, 'Philip' Shiraz, is also on offer at the same price but it is not in the same league as the Semillon.