Mosel Magic
Exactly six years ago I wrote: "…to evince an interest in wine in general while ignoring German Riesling is like claiming to study literature while disregarding poetry." Those words remain as true today as they were then, yet an alarming number of wine drinkers continue to disregard the poetry. In Germany's Mosel region (also known as Mosel-Saar-Ruwer) the poetry reaches a peak of perfection that is unmatched by any other wine region in the world. Reaching such heights, however, is no easy task and calls for a high-wire balancing act between sweetness and acidity. Veer in favour of the former and you end up with sugar-water. Over-emphasise the latter and the result is a teeth-jarring concoction utterly devoid of charm. Get it right and every sip of your wine tingles with excitement.

One producer with an enviable track record of getting it right is Egon Müller whose Scharzhofberg wines are revered around the globe. First impressions here are misleading, for the immaculately dressed Herr Müller can seem at first to be reserved and distant. Until, that is, he serves up some aged treasures from his cellar. Then the eyes twinkle and his face breaks into a broad grin as he listens to the ecstatic pronunciations of his guests as they sip (and very seldom spit) his wines. Typically they will contain less than 10 per cent alcohol yet, because of the superb balance and the wondrous intensity of flavour, they lack for nothing.

Müller is not the only one capable of wresting the most enchanting flavours from the Riesling grape. Two representatives of the younger, confident but modest, generation are Oliver Haag of Weingut Fritz Haag and Johannes Haart of Weingut Reinhold Haart. Haag's tasting room in Brauneberg looks directly across the river to one of his most prized plots of vineyard, the Brauneberger Juffer Sonnenuhr. His Kabinett is a delight, the Spätlese is even better and the Auslese leaves you wondering what sort of alchemy is required to get such thrilling sweet 'n' sour flavours into a bottle of wine. Purity of flavour is the hallmark here, as it is further upriver at Piesport, home to Haart. As the crow flies it is but five kilometres from Brauneberg to Piesport but travelling along the road which hugs the river bank will set you back some 13 kilometres.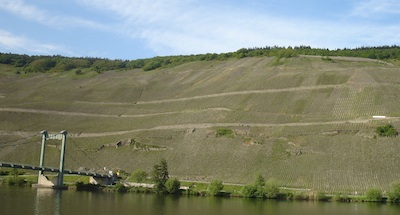 The journey is more than worth it, for the full splendour of the Mosel is best appreciated on a drive like this. The river itself wriggles and twists like a demented eel as it repeatedly turns one way, then the other and then back again. The sides of the valley rise steeply from the river and wherever they are facing south they are planted with vines. These are no ordinary vineyards, for they are impossibly steep and an hour working on the gentlest slopes is enough to induce back-breaking pain. An attempt even to stand in some of the steepest would, quite literally, be impossible for all but experienced vineyard workers. The village of Piesport hugs the river, with the famed Goldtröpfchen vineyard at its back and sides. The simple church dominates the village itself but it is the great sweeping amphitheatre of vineyards that holds the eye and draws incredulous gasps from first time visitors. This is stunning countryside and no words or photo can do it justice. Only a visit will suffice. Then close the circle by enjoying a glass of Haart Riesling by the riverbank – perhaps the Piesport Goldtröpfchen Spätlese 2007.

Retracing your steps and heading back downriver past Brauneberg takes you to Mulheim, home to Weingut Max Ferd Richter. Dr Dirk Richter is the current boss of a family business that can trace its origins back over 300 years and he is as erudite and voluble a fan of Riesling as you are ever likely to meet. Never pass up on a chance to taste his Eiswein, though the less exalted wines are equally worthy of your attention. Further downriver we come to Bernkastel-Kues a beautiful old town of half-timbered houses and a medieval market-place. Above the town stands the ruined Landshut Castle, the view from which is perhaps the most spectacular in all the Mosel. A great bank of vineyard stretches off into the distance, tended by the likes of Ernst Loosen, tireless ambassador for Riesling, and JJ Prum, producer of deceptively delicate wines that can age for decades. Truly, this is a land of spectacularly sited vineyards overseen by sentinel-like ruined castles. The remains of the Grevenburg Castle stand above the town of Traben-Trarbach, as impossibly placed as all the others. How they ever got built is beyond imagination. One suspects that Health and Safety had little say in their construction…

The Mosel's tributary, the Saar, is less splendidly adorned but its best wines are just as good. It is home to Müller, of course, but also to Schloss Saarstein and Peter Lauer, two exemplary producers. The Schloss is surrounded on three sides by vines, with forest on the fourth, and is presided over by Christian Ebert. A tasting here might be accompanied by wild boar sausage from animals that Ebert has shot in the vineyards before they could eat his entire harvest. No such condiments accompany a tasting at Lauer, hosted by Florian, son of Peter, though the wines certainly don't lack for identity or flavour. They come mainly from the Ayler Kupp, a magnificent hill, topped by trees, that bears a close resemblance to our own Ben Bulben. If only Riesling grew on the slopes of that famed Sligo landmark.

RIESLING
What to write about Riesling that hasn't already been written a thousand-fold? Greatest white wine grape in the world? Check. Extraordinary ability to age and develop over decades? Check. Hugely versatile? Check. Incomprehensibly shunned by a huge number of wine drinkers? Check. Despite all its trials and tribulations Riesling soldiers on and, though other regions may cavil, it is in the Mosel that it reaches its apogee. Here it is characterised by a delicate, lacy filigree of flavour, devoid of outright weight but never lacking in intensity. To appreciate it fully a palate more used to weighty, oak-influenced and alcohol-laden wines needs to be 're-calibrated' as it were, so as not to miss the subtle nuances of fruit, acid and minerality that combine here to produce one of the world's greatest wine styles. No superlative is too much to describe the best efforts of the top producers.

WHITE GOLD
Should you ever plan a visit to the Mosel try to do so in May when the white asparagus is at its best. We are more familiar with the green version in these parts but white asparagus, called spargel in Germany, has a subtler and less bitter flavour. This is as a result of being cultivated in light-free conditions that prevent photosynthesis from occurring. The succulent white sticks are best enjoyed simply – with some hollandaise sauce and a glass of Riesling. If that is not enough you will find that many restaurants offer a full asparagus menu, which might include soup, a portion served with hollandaise, a risotto and then a main course with spargel as the vegetable. For true aficionados only.

TRIER
Trier is Germany's oldest city and is the capital of the Mosel region. Inevitably it is steeped in history, having been founded by the emperor Augustus in 15BC. It has seen more than its fair share of war and destruction but despite this it still manages to boast many historic monuments such as the Roman gate Porta Nigra, the imperial thermal springs and the cathedral, said to be the oldest German episcopal church. These buildings enjoy UNESCO World Heritage Site status. Famous names associated with Trier include Karl Marx who was born there and Charles de Gaulle who commanded the French garrison after the first world war. A day spent exploring the city on foot is highly recommended. www.trier.de

EAT & STAY
Weinhotel Ayler Kupp: Owned by the Lauer family. Small and welcoming. www.saarriesling.de

Weinromantikhotel Richtershof: Comfortable with very friendly staff. Excellent restaurant. www.weinromantikhotel.de

Jugendstilhotel Bellevue: Impressive Art Noveau premises. Lovely food.
www.bellevue-hotel.de

Restaurant Mathes: Not strictly in the Mosel but in nearby Luxembourg. Well worth a detour. www.restaurant-mathes.lu