Mixed Marks & Spencer
M&S showcased a half-century of wines earlier today in what might have been ideal conditions except for the muggy heat in the tasting room. All the other pieces of the ideal tasting jigsaw were in place: silence, good light, good tasting notes and wines clearly marked (except for one or two!). More's the pity then that some of the reds tasted soupy and indistinct, where they might have been fresh and juicy.
It should no longer be considered a curiosity, but English sparkling wine is still new to many people. You won't go far wrong with the Ridgeview Marksman Brut Blanc de Blancs 2008 (12%) €32.50 with its bracing citric notes, sea-breeze freshness and lingering finish. It could get an Easter Sunday lunch off to a cracking start. Thereafter you might want to be more careful with the pennies so I would head for the Lone Range Heretaunga Chardonnay 2009 (13.5%) €11.79. This is quite a classy drop and its shortcomings only show on the quickly fading finish. With Easter almost as late as it possibly can be this year we can justifiably hope for some good weather. No red speaks of sunshine and joy better than a good Beaujolais so check out the Fleurie 2010 (13%) €14.99, a lipsmacking number that fair bursts with fruit.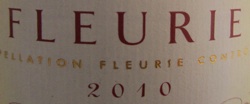 If you are entertaining a big crowd, après first communion for instance, you will want to keep the price bar low and if you set it at a maximum of €8 then you should not look past the Rosso di Puglia 2010 (12.5%) €6.29 with its bouncy fruit and reasonable length. An equivalent white would be the PX Elqui 2010 (13%) €7.29 from Chile, which sports a pleasant bit of tingle. Pour it blind and then see if anyone can guess what it is.