Mayday Brunch in Singapore
Having made do with nothing more than an orange for breakfast I was ready for something more substantial by the time I entered the Capella Hotel, Singapore yesterday for the mother of all brunches. On arrival, I caught the unmistakable, gentle but insistent, whiff of white asparagus on the air. Following the trail to source I came across a steaming urn of soup manned by Jan Touschil, head chef at the Magma German wine bistro. It was splendid stuff, delightfully subtle and judiciously seasoned by a light hand.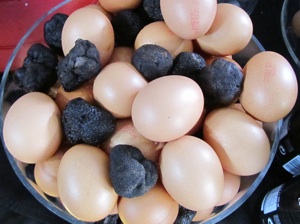 Truffled eggs.

Wine writers tend to go into a minor flap when asked to match a wine to asparagus, citing all sorts of difficulties before plumping for Sauvignon Blanc. Whenever I have visited the Mosel in May, with the asparagus season in full swing, I have always favoured Riesling, but was delighted yesterday with a glass of Johanninger 'P' 2007, a Pinot Blanc from Germany's Nahe region. Its lovely juicy fruit provided a nice counterpoint to the satin-textured soup, as well as helping to beat back the enervating humidity of the day.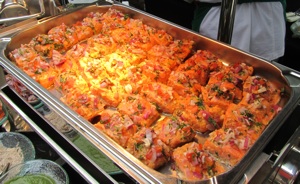 Tandoori salmon.

There was much more than just soup on offer and a trio of other dishes stood out for me. First up was an established classic: scrambled eggs with grated truffle. Turning out good 'scramblers' in large quantities is not easy. I think I got served from a fresh batch so perhaps I was lucky but these were good, not too firm, not too runny. The truffle could have been a bit more 'truffley' for me but that didn't stop me from scraping the plate clean. Next was a tandoori salmon that was succulent and firm, with its flavour enhanced rather than swamped by the sauce. Finally a seafood risotto, made from arborio rice, that was deep and rich and silky. An espresso and a single, sinful Michel Cluizel chocolate and it was time to head back to the air-conditioned cool of my hotel room for another shower.