Lazarus Lives!
The long lunch is back, resurrected from the grave by the good people at Locks Brasserie, Sebastien Masi and Kirsten Batt. The simplest ideas are the best and what could be simpler than opening for lunch at 12.30 and remaining open right through until closing at the end of dinner service? (Thursday to Sunday inclusive.) Long lunchers are already beating a path to Locks door, the only problem being that they tend to put down roots and have to be gently coaxed from the tables come seven or even eight o'clock.
Masi and Batt are no strangers to the Dublin dining scene having been at the helm at Pearl Brasserie since 2000. Despite multiple awards and a loyal clientele Pearl still remains strangely overlooked by otherwise savvy diners. Perhaps it is the subterranean setting, a charge that could not be levelled at Lock's where, on a good day, sunlight floods in through the expansive windows and diners can look out at swans gliding past on the Grand Canal.
The tranquil setting encourages you to linger long so why not enjoy a glass of the excellent Pierre Moncuit Blanc de Blancs champagne while choosing from the menu? A simple rocket salad to start for those still watching the waistlines after Christmas, duck foie gras for those who aren't. Then scallops and truffle risotto for the waistline, rib eye steak for the trencherman.
Here's the deal: work through lunch on a Friday and finish early. Book in for four or five o'clock. Get home in time for feet up and a good DVD.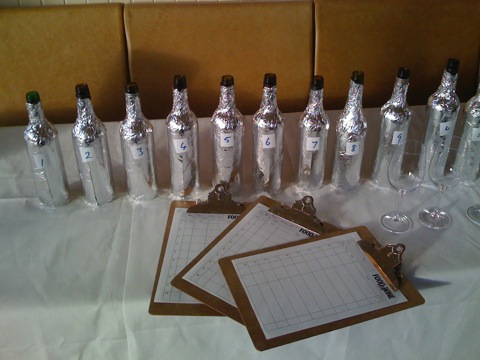 All set for a recent Food & Wine Magazine tasting at Locks.
See:
locksbrasserie.com
© Raymond Blake: 2011