Grüner Veltliner
After a troubled childhood and adolescence, marked by temper tantrums and some impressively deep sulks, it can be reliably reported that Grüner Veltliner has now come of age. Only a fading echo remains of the querulous individual upon whom graciousness had to be forced and now we can rejoice in a well-rounded personality, which includes a welcome 'edge' where once it was completely dominated by it. A host of winemakers can take credit for the transformation but none more so than Laurenz Maria Moser, on whose shoulders the title 'Grüner King' would sit easily.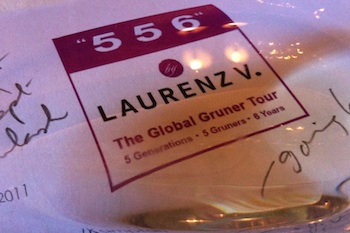 Moser was in Dublin recently to host a tasting of his wines, including a pair of treasures from the early 1980s. Having made the decision, some half dozen years ago, to produce nothing but Grüner, Moser is now the Austrian grape's most passionate advocate. Joking that winemakers used to make it taste as awful as possible – and then wonder why nobody liked it – he can now rightly claim that it is steadily establishing itself as a player on the world stage. His own efforts are a huge help to its fortunes, for he has managed to harness the "DNA of Grüner Veltliner" while wrapping it in an attractively fruity package, which is not as easy as it sounds. Think of mixing oil and water.

His 'Friendly' 2009, with a modest 12% alcohol, is a delight, with the signature spice of the grape (think rocket) supported by clean, pure fruit flavours. The 'Silver Bullet', fermented on its skins, will be a little overwhelming for some palates as it lacks the fresh zip of the 'Friendly'. And nobody should be in any doubt that Grüner can age well. The 1980 was a bright canary yellow in the glass with a vivid, finely poised flavour on the palate that tingled its way into a deliciously long finish.