Grand Tasting at Clos de Vougeot - March 2010
Built by the Cistercians over 450 years ago the Château du Clos de Vougeot sits hunkered down amongst the vines of its eponymous vineyard, a foursquare and forbidding testament to their industry. There is no architectural decoration to speak of, no flights of fanciful design whose only purpose was to catch the eye, no Disney-esque embellishment à la the Loire Valley. Function dictates form here, for the building started out life as a working winery, producing wine for the nearby abbey of Citeaux and other Cistercian monasteries. It is the most enduring legacy of the huge influence the monasteries had on the Burgundy wine region. Its days as a functioning winery are long gone and since 1945 it has served as the headquarters of Confrérie des Chevaliers du Tastevin, a faux-Medieval brotherhood of Burgundian winemakers and wine lovers from around the globe.
As such it plays host to the Chevaliers' monthly dinners, the most popular of which attract 600 guests who enjoy bibulous evenings, replete with plenty of pomp and ceremony, enlivened by countless toasts and 'spontaneous' outbursts of song. In addition, it is used for many other functions and prestigious tastings, the most recent of which was held on Thursday 25th March last, as part of Les Grands Jours de Bourgogne. The Grands Jours is a mammoth, week-long series of tastings held in many of the region's most famous wine villages. It is a relatively young event and has been held every two years for the last 10. It is a masterpiece of organisation and has very quickly established itself as a must-attend event for the world's wine trade and press.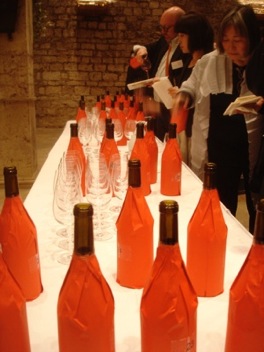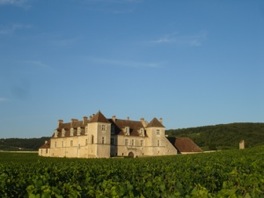 Above left: Blind tasting of Grand Cru wines at the Château du Clos de Vougeot, right.

Part of the attraction is the opportunity to sample wines from the top of the quality ladder and at this year's Grands Jours the gala dinner at the château was preceded by just such a tasting. Some 40 grand cru wines (22 white and 18 red) were available for tasting 'semi-blind', that is, with the name of the vineyard and vintage listed but not the producer's name. Such an exercise is fraught with danger, even for the most experienced tasters, yet it banishes prejudice to the sidelines and allows a completely objective assessment of the wines to be made. Preconceptions and fixed opinions must be dispensed with – and are frequently turned on their head once the wine's full identity is revealed.

At the March tasting just two vintages were featured: 2008 & 2002. The former is the vintage that has just become available for purchase and the latter is an example of a very good vintage, which should now be beginning to show the benefits of some bottle age. It made for a fascinating comparison but, more importantly, it drew attention to the fact that the red wines from the younger vintage, which has already been overshadowed by the praise heaped on the 2009, are better than is generally supposed. In the best examples good acidity is the hallmark and this endows a wine with freshness and the ability to age well, though it does mean that the wines can taste a little sharp and certainly not 'flashy' when tasted young. Some of the 2008 whites were delicious, from lean and racy Chablis to rich and plump Corton-Charlemagne. They are drinking beautifully right now and are almost impossible to resist but the patient wine lover will be rewarded with more complexity in five or six years' time.

And what of the producers, whose names were tucked away discreetly at the back of the tasting booklet? Inevitably there were some surprises when each taster consulted the list and matched up names with wine numbers – and then wondered how they could possibly have eulogised or indeed damned a particular wine from this or that winemaker. I was gratified to note that I had not committed any outrageous howlers but also reminded (yet again!) of the folly of making sweeping generalisations about Burgundy vintages, winemakers or vineyards. Nowhere resists easy categorisation like Burgundy and anybody who tries to pigeon-hole it and reduce it to a series of trite comments and spuriously attractive ratings is on a fool's errand. It is far more complex, and hence rewarding, than that.

The Grands Jours is an excellent showcase for the wines and the producers, many of whom are now outward looking and inquisitive about other regions, unlike the stereotypically cussed peasant of yesteryear. They have also travelled to those regions and made wine there and exchanged ideas with the local winemakers, and now they have brought that wealth of experience back home to Burgundy with them. The wines are already showing the benefit and it can only be a matter of time before they win over a new generation of wine drinkers. Once that happens a new golden age, to rival anything that has gone before in Burgundy's long history, will surely be ushered in. I, for one, cant wait.

GRAND CRU
Grand cru status is the highest quality designation that can be accorded to a Burgundy vineyard. Therefore all grand cru wines are of impeccable quality, correct? It is anything but. The great majority of vineyards in Burgundy have been divided and sub-divided over the centuries so that in extreme cases a single vineyard may have a couple of dozen owners. Numbered amongst them will be some winemakers of immense talent and exemplary diligence, as well as others who, putting it politely, sit at the other end of the spectrum. Thus the designation 'grand cru' is not a watertight guarantee of quality, in reality it is a guarantee of potential more than anything else. Only a talented winemaker can unlock that potential, meaning that it is vitally important that the name of the person who made the wine is known (and known to be well regarded also) before a serious purchase of Burgundy is made. Otherwise frustration and disappointment will be your lot, rather than the sublime satisfaction that every good bottle carries within it.

Article first published in the Summer 2010 issue of Munster Interiors magazine.