Gourmet Abu Dhabi
T
error, pure and refined, is not what you expect when attending a gourmet festival. When that festival takes place in Abu Dhabi, however, and when a visit to Ferrari World, home to the world's fastest roller coaster is on the programme, that is precisely what you get. An agonising 92 seconds on this vicious, snaking monster brings a whole new meaning to the phrase 'white knuckle ride'. Enough said.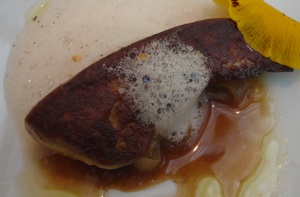 Foie gras at Ristorante Cavallino, Ferrari World.

While the daredevils terrify themselves well out of earshot a more sedate experience can be enjoyed at Ristorante Cavallino, the in-house restaurant presided over by Massimo Falsini. Falsini could talk forever about food: ingredients as well as methods of preparation. The correct rice for risotto that must be aged for one year; the 12- and 25-year old balsamic that he uses, "Any other age is just a scam." The different types of buffalo mozzarella needed for a caprese salad or for a pizza; the flour for the pizza bases and the pasta; the salt from Sicily whose ingredients are listed as: "salt, wind and sea". The beech wood for the pizza oven that is shipped by the container load from Italy every month.

It's not all talk either. For the month of February, and to coincide with Gourmet Abu Dhabi, he prepared a special five-course set menu but, having listened to him speak about the perfect ragu Bolognese for five or 10 minutes ("Remember, it is a meat sauce with tomato, not a tomato sauce with meat") I couldn't resist sampling its smooth texture and revelling in its deep, lingering flavour.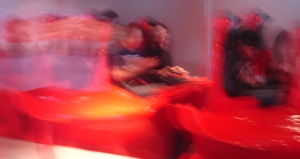 It's a fast roller coaster...

Amongst the visitors to Ferrari World in early February was TV chef James Martin, a car collector and amateur racer of note who was apparently able to tell the staff more about the drool-worthy cars on display in the museum than they knew themselves. He didn't have time to linger, for the following evening he was cooking a seven-course dinner for 120 diners in the Crowne Plaza hotel's ballroom while still managing to come on stage before, during and after the meal to entertain the guests. "I don't do canapés – I am a Yorkshire man," he said, by way of explaining the lack of nibbles with the welcome glass of Bisol, Jeio Prosecco di Valdobbiadene. A trio of 'starter' courses easily made up any deficit, with the Thai crab risotto being marginally preferred over the duo of duck and the warm smoked lobster. The other two weren't slouches in the flavour department but the risotto's satin texture and subtle seasoning were hard to beat. It was also a winning combination with the Leeuwin Estate, Art Series Riesling 2009, where a hint of lime in the dish was echoed by a similar note in the wine.

Then it was time for a kitchen skills demonstration as Martin showed how to 'speed chop' mushrooms while two enthusiastic 'assistants' from the audience, set the same task, laboured heroically to keep pace with him. His knife gave off a woodpecker's rat-tat-tat to their more sedate tap… tap… tap. Then back to the kitchen to plate up the slow roasted beef fillet and prepare the sorbet and dessert. Then out amongst the diners again to 'work the room', posing for a string of photographs with adoring female fans.

The relentless pace continued early the following morning when Martin was back at work, cooking a trio of dishes for a masterclass. One was a roasted pumpkin risotto, which he barely bothered to stir, insisting that the odd shake of the pan done with a performer's flourish was enough. He is also trenchant in his championing of butter as an essential ingredient in just about any dish and his motto might be: "If in doubt, add butter and if still in doubt add more butter." Once finished, there was more posing for photographs, more signing of autographs and then straight to the airport to catch a flight home.

The mood was more sedate at Teatro Restaurant in the Park Rotana Hotel where Juan Amador had charge of the kitchen for three nights. Amador is a German chef of Spanish extraction whose eponymous, three-star restaurant can be found in Langen, south of Frankfurt. There was no wooing of the crowds with amusing anecdotes or pyrotechnic knife skills and, looking into the open kitchen, one could see that he spent most of the evening hunched over a series of elaborate dishes, adding finishing touches to creations such as Norwegian lobster with broccoli, almond and beurre noisette or saddle of venison with jelly of coconut, mango and purple curry. Ten courses in all were served and for a price of about €75, to include a glass of champagne on arrival and a cognac after the meal, it represented stunning value.

Where the food took centre stage at Teatro, the wine received equal billing at the Yacht Club Restaurant in the Intercontinental Hotel in a joint collaboration between Maison Joseph Drouhin from Burgundy and chef Susur Lee from Canada. His crab salad was a delight with the Chablis 1er cru Vaillons 2009, though the Chassagne-Montrachet, Marquis de Laguiche 2008 with the sea urchin soup was even better. Then a pair of reds, Côte de Beaune 2008 and Beaune, Clos des Mouches 2008, were served alongside foie gras with chicken 'tang yuan'. Not an easy match and perhaps a little unfair on the first wine, for the vibrant Clos des Mouches was the effortless star here. Roasted wagyu beef followed, with a Gevrey-Chambertin 2008 and a Clos de Vougeot 2003. The meat didn't quite have the legendary tenderness of this 'foie gras of beef' and the Gevrey was the preferred wine with it, as the Vougeot 2003 carried the stamp of that torrid vintage in its dense, muscular form.

On hand to introduce the wines was the petite and effortlessly charming Véronique Drouhin who finished by telling everybody that they were all welcome to come and visit Maison Drouhin in Burgundy. Judging by the reaction on the night she's going to have a lot of visitors.

THE LOWDOWN
Though only in its third year Gourmet Abu Dhabi has already managed to attract a legion of top rank chefs who can lay claim to a constellation of Michelin stars between them. That it has done so in such a short time is thanks to the fact the Abu Dhabi Tourism Authority (ADTA) wisely commissioned former chef Peter Knipp to run the event for them. For 15 years now Knipp has been the driving force behind the World Gourmet Summit in Singapore so when the ADTA came calling he had, "one I made earlier," ready to hand.

This year the headline names included Yannick Alléno from France, Atul Kochar from Britain, Bruno Ménard from Japan and Tetsuya Wakuda from Australia. The wine side is not ignored either and it is handled by Dr NK Yong, a retired cardiac surgeon who famously converted the swimming pool in his house into a wine cellar and who Knipp refers to as, "the wine pope." His contacts in the wine world are such that for this year's event in Abu Dhabi he lined up names such as: Bodegas Vega Sicilia, Château Pichon-Lalande, Weingut Joh. Jos. Prüm, Azienda Agricola Luciano Sandrone and Château de Beaucastel.

A GOOD SMOKE
Those who cherish the days when you could enjoy a good post-prandial cigar without having to behave like a furtive schoolboy behind the bicycle shed will love Abu Dhabi. The cigar smoker is welcome there and nowhere is the welcome warmer than in the Havana Club at the Emirates Palace Hotel. The hotel, which cost three billion dollars to build, is a visitor attraction in its own right and sometimes the lobby bustles with tour groups. You can escape from all that with a good cigar in the club, perhaps accompanied by a vintage dated Macallan whisky. Your companions, meanwhile, can indulge in some people watching in the lobby, observing the tourists being photographed beside the ATM that dispenses small gold bars rather than cash, while savouring a cappuccino topped with 24-carat gold flakes.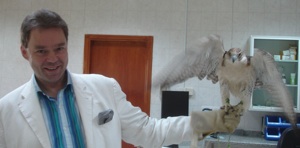 At the falcon hospital.

GO VISIT
With a direct Etihad flight from Dublin, and the prospect of some winter sun and golf thrown in, a visit to Gourmet Abu Dhabi 2012 next February might help to banish the winter blues. The festival runs over two weeks and the headline dinners book out early. Not to be missed either are the masterclasses which are free. It doesn't have to be all wining and dining. A visit to the mosque is a must and, believe it or not, the falcon hospital also attracts big crowds. The Formula One racetrack, with the Yas Hotel built over it, should keep the jaws dropping.

Check: www.gourmetabudhabi.ae

Article originally published in Food & Wine Magazine, April 2011.