Fowl Play
It is Easter Monday in Burgundy and the temperature is hovering around zero. Snow has been falling gently since midnight and now the fields and vineyards are generously blanketed. The bare branches of the trees carry a thick icing of snow too, but the roads have remained clear and traffic is moving easily. Except, that is, for those hardy gastronomes who are driving to La Ferme de la Ruchotte for their lunch. La Ferme is owned and run by Frédéric and Eva Ménager and is located between the villages of Bessy-en-Chaume and Bligny-sur-Ouche, 15 kilometres to the north west of Beaune. This is remote countryside and as the road winds its way upwards it narrows and enters a small forest where slush and fresh snow force the pace down to a crawl. Familiar landmarks are not so easily recognised now and eyes crane and peer in search of pointers. Breaking down is not an option.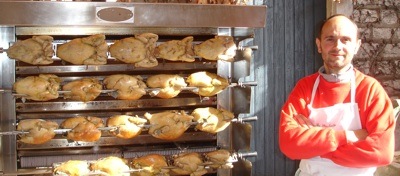 Frédéric Ménager

Are these diners mad? What draws them away, in weather like this, from their local village restaurants? The answer is the unique attraction that is La Ferme. For a start you never know what is going to be on the menu, which will be chalked up on a blackboard beside the range. There will be no choice, but who wants choice with fare as good as this? Today it is foie gras followed by roast pork, cheese and sublime crêpes. But it is for his advocacy and passionate support for the cause of real chicken, properly fed and reared, that Frédéric Ménager has made his name. Ancient breeds, some close to extinction, strut imperiously across his fields. And they share the space with a host of other animals, most notably a herd of black pigs that today are snuffling around on the snowy ground but who, in summer, take their languid ease stretched out in the sun on a welcoming patch of mud.

When it comes to chicken Ménager means business and once you get into conversation with him you quickly learn that there is more to it than that shrink-wrapped blob of flesh and bone that you can buy in the supermarket for not much more than the price of a pint. Can there possibly be a more dumbed down meat than chicken? I think not. Industrial methods of production, rigorously applied, have seen to it that the price has been driven relentlessly down while the flavour and character have been squeezed out. These same methods have recently come in for a lot of criticism, the main thrust of which is the welfare of the animals concerned. Noble and all as this concern is it strikes me that more attention needs to be paid to the possible human welfare and health issues that long term consumption of this sort of foodstuff may raise. And, while we are at it, let's not forget the flavour either.

Just how good chicken can taste was brought home to me forcibly last summer while dining at La Ferme. The bird in question was jointed and slowly cooked in a casserole with vegetables for some five hours. The resulting flavour was rich and deep, prompting me to ask Ménager what sort of stock he had used. "Water" was the reply. It didn't seem possible that this much flavour could come from a chicken, some vegetables, seasoning and simply water, and I said so. Thus ensued a long conversation (not helped by what my French teacher years ago referred to as my "bog French"), the conclusion of which was an invitation to a chicken tasting that Ménager was organising at Domaine Prieuré Roch in the village of Prémeaux last October.

Prémeaux is not one of Burgundy's prettiest villages and on a cold, late October day its charms lie well hidden. A bright sun blazes in an icy blue sky but it is low-hanging and the effect is all dazzle with no heat. You do not linger on the street. Your nostrils twitch and your pace quickens as the smell of roasting chicken drifts across the air. The entrance to Prieuré Roch opens into a courtyard that, for today, has been covered with canvas. By midday a half-century of eager tasters is assembled and after a seemingly endless interlude of small talk, hand shaking and cigarette smoking they are ushered inside. Seats are assigned and the serious business of munching one's way through breast and leg meat from six different breeds of chicken is set about. The whole affair is rigorously managed and smoothly run (see below) but the fun only really begins when lunch is served.

Pens and paper are put away and the carcasses, still generously clad with meat, are distributed among the tables along with salad and bread. Eager hands cut choice morsels and the deftest of all seek out the 'oyster', aptly named in French, sot-l'y-laisse, meaning 'only the fool will leave it behind'. Thanks to the generosity of Henry-Frédéric Roch and his wife Corinne a quartet of their wines is in long supply. The animated conversation is broken occasionally by verbose speeches in praise of proper chicken. The afternoon is long, the wine is flowing and nobody is hurrying away...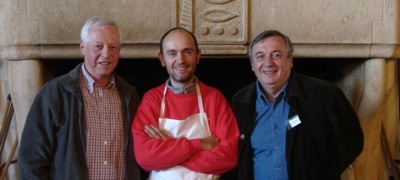 Jacques Seysses, Frédéric Ménager & Jacques Lameloise

THE TASTING
The tasting, or Journée du Goût, featured some three-dozen different breeds of chicken, revelling in names such as Combattant du Nord, Coucou de Rennes, Geline de Touraine and Poule du Vercors, and they were cooked on spits under the supervision of Frédéric Ménager. The four-dozen tasters were divided amongst six tables of eight each, and six different birds, identified only by a numbered tag, were served, one at a time, to each table. At least one noted chef was present at each table to do the carving and our group was in the very able hands of Jacques Lameloise, owner of the eponymous, three-Michelin-star restaurant in Chagny.

I tasted breast and leg meat from each bird and kept some of each back so that they could all be tasted again before making my final judgement. Marks were awarded for texture and taste and were then aggregated for each table. The highest scoring breed at each table then went forward to a 'grand final' where the six finalists were re-tasted by a panel composed by the lead chef from each table. I was gratified to note that my favourite, the Charollaise, was the highest scoring at our table and that it was then judged to be the second best overall. The top six breeds were: 1. Noire de Challans, 2. Charollaise, 3. La Fleche, 4. Poule de Racan, 5. Faverolles Foncée and 6. Faverolles Claire.

It is worth noting that in each case the leg meat was tastiest and it was easier to distinguish the difference from bird to bird. When my fellow tasters were told that breast meat is more highly regarded at home in Ireland and that the leg meat is considered to be second-class they were at a loss to understand such preference. Perhaps we need to re-visit this prejudice.

The six breeds tasted at my table (with aggregate scores) were as follows:

A1 (Alsace) Good taste and texture. Some of the breast meat a little dry. Dark meat better, nicer flavour, quite firm and chewy but not tough Flavour comes on as you chew. (126)

A2 (Barbezieux) A plumper bird with visibly yellower fat. Breast meat succulent and moist initially but then dry and uninteresting. Leg meat much better, juicy and creamy textured. (128)

A3 (Bourbonnaise) A very small bird, intense, almost gamey, aroma. Breast very dry but good flavour. Dark meat much better, firm and chewy with quite noticeable gamey notes. (101)

A4 (Bresse, Gauloise Blanche) Nice moist breast, firm textured with lingering flavour. Ditto leg meat. (111)

A5 (Charollaise) Class will out. A mere slip of a skinny little bird but what flavour! Breast remains moist and creamy from beginning to end. Leg meat equally good, with a lingering rich flavour. (130)

A6 (Combattant du Nord) Dark meat strong and robustly flavoured, might be a bit much for some palates. Breast good though not exceptional. (122)

DOMAINE PRIEURÉ ROCH
The domaine was founded 20 years ago by Henry-Frédéric Roch whose family are the co-owners of the Domaine de la Romanée-Conti, and Roch is co-manager of that domaine, along with Aubert de Villaine. His own domaine runs to four hectares of vineyard, including treasures such as Chambertin Clos-de-Beze and Clos Vougeot, but also a marvellous Bourgogne Grand Ordinaire made from Gamay and a touch of Pinot Noir. The house style is robust and meaty with plenty of rasping cherry fruit to add freshness. The top wines possess great intensity and length and will only show at their best after about a decade's bottle ageing.

Four wines were served with lunch: Vosne-Romanée Les Clous 2005 (brisk and bracing); Nuits St Georges "1" 1er cru 2005 (oodles of plummy fruit); Vosne-Romanée Les Suchots 2002 (herbaceous streak and gorgeous mouthwatering fruit) and Clos Vougeot 2005 (dense, forceful and not yet out of nappies).
www.laruchotte.blogspot.com

Article originally published in Food & Wine Magazine, May 2008.