Forget Sherry!
Say instead: Fino, manzanilla, amontillado, palo cortado, oloroso… Can any other wine style or region boast such a splendid quintet of evocative, mellifluous names as this? Roll them on your tongue, savour them, hear how they resonate. To lump them all together under the prosaic term 'sherry' seems such a travesty. More than that, it is a commercial tragedy, for the name sherry has become so debased, so associated with fuddy-duddy, stick-in-the-mud images that people reject it without ever letting a glass near their lips. Hence I use the generic term as little as possible and try instead to talk of a glass of fino or oloroso when referring to the famous wine of Jerez, way down in the south west corner of Spain.
These two sit right at opposite ends of the style and flavour spectrum. Fino is pale in the glass, delicate and light on the palate with a distinct savoury twist on the finish. Oloroso on the other hand is dark and brooding, intense and forceful with, at its best, unimaginable depths of flavour. Together they constitute the two principal styles of sherry and all others derive from them. (Before the residents of Sanlúcar de Barrameda put my name on a hit list I should point out that their wine, manzanilla, is the same as fino, with perhaps a saltier tang thanks to its proximity to the sea.)

There is nothing simple when it comes to considering all the different styles and categories of sherry and perhaps that is part of its problem. Every time I have visited the region I have been treated to labyrinthine explanations of its classification system, yet would still not claim to fully understand it all. We need not concern ourselves with those intricacies here and will keep the focus firmly on fino and oloroso. Both of these start out life as humble wines of no distinction made from the Palomino grape. The best come from those vineyards planted on the region's famed albariza soil – pale grey, dusty and eye-searingly bright under a relentless midday sun.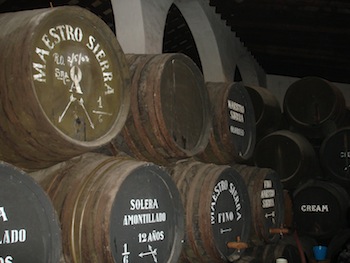 After fermentation the wines are assessed and graded. Those whose character is delicate and fine are destined to become finos while the coarser, more robust wines are set to become olorosos. At this stage both are fortified by the addition of grape spirit, the finos to about 15 per cent and the olorosos to about 18 per cent. It is at this point that sherry begins its long journey from humble origins to exalted pre-eminence as one of the world's greatest wines. The wine is transferred to large barrels or butts with a capacity of about 600 litres and, critically, they are not filled to the top. A significant proportion remains empty so as to leave the wine in contact with air, a practice that would gain no favour in other wine regions.

Nor is a barrel filled from empty with young wine. Rather, the youngster becomes part of the solera system. This is a complicated system of fractional blending used to ensure consistency of style from one year to the next, indeed, from one decade to the next. A solera consists of perhaps a couple of hundred barrels arranged into ranks or tiers. Wine for bottling is drawn only from the oldest tier and this deficit is made up from the next oldest and so on until the deficit in the youngest tier is replaced by the new wine. No barrel is ever emptied of all its contents; usually no more than one-third is removed at any one time. Thus a well cared for solera should have an unlimited life span and it is indeed possible to come across ones that have been in existence for well over 100 years.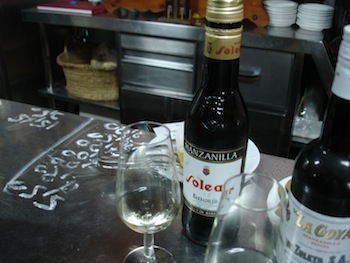 Depending on whether a wine is a fino or an oloroso it ages in a completely different fashion. The lower alcohol level in the fino permits the growth of a yeast called flor. This forms a scum-like covering on the wine and hence protects it from oxidation and allows it to age and develop in a biological fashion. No flor grows on the oloroso, however, and hence it ages in an oxidative fashion, getting darker and more intensely flavoured with time. (Should the flor on a fino die off the wine then develops into an amontillado.)

All of this happens in the 'cathedrals' of Jerez, the vast, high-ceilinged bodegas, each of which house thousands of blackened oak barrels and their precious cargo of wine. Outside on a summer's day the sunlight dazzles off the bright white exteriors while inside the bodegas are hushed and remarkably cool. The earthen floor absorbs the sound of your footfall while your eyes struggle to adjust to the dim light. As you walk between the ranks of barrels, stacked perhaps five high, the atmosphere is timeless and peaceful and, after a while, you find yourself coming into step with it. The pace slows and your voice drops a few decibels. There is an enticing, slightly pungent aroma that you can't quite pin down. Wine, oak and earth combine to tantalise the nostrils. It is time to taste.

Luckily the cellar master is standing by, armed with his venencia, a slim metal cup with a long flexible handle attached. He plunges it into a barrel to extract a sample and then pours it masterfully from a great height into your copita. The stream of liquid twinkles and sparkles – pale lime for fino, deep amber for oloroso. The wine from barrel is cool and in the case of fino, remarkably fresh. Indeed it is hard to fathom that something so lean, austere even, can be produced in a region whose summers are unremittingly hot. In the best finos the savoury freshness is enhanced by a whisper of nutty richness, almonds perhaps. It is this savoury, nutty character that links fino to its polar opposite in style, oloroso, where the flavour is altogether more intense. The tiniest sip of a good oloroso, when savoured for a few moments, will reveal nuances and layers of flavour that few other wines can match. Just like fino it is also bone dry but may be sweetened before bottling by the addition of some thick, treacly-sweet wine made from the Pedro Ximenez grape. When just a touch is added to an oloroso it helps to leaven an intensity that can sometimes be searing, rounding out the hard edges as it were.

It is fino that accounts for the lion's share of production and therefore it is fino's lot to be misunderstood, badly served, badly stored and generally under appreciated. Above all, remember that it is a wine and if in doubt as to how it should be treated then treat it as you would another wine. Serve it in a decent glass – if you have a set of those pinched thimbles that it used to be served in please consign them to the next church sale. Serve it chilled and keep an opened bottle in the fridge, but not for too long, after a few days it will lose its freshness. And, when I say treat it like a wine I mean exactly that, in other words drink it with food. Fino is one of the most versatile wines for food matching. It is perfect with just about any form of seafood, shellfish especially and it is one of the best wines to drink with smoked salmon. But for me the perfect match is a chilled glass of fino, a plate of wafer thin Iberico ham and a hunk of crusty bread. Preferably enjoyed in Jerez…

YOUR FIRST FINO
Picture the scene: I am 10 years of age and have just returned home from school. My mother is eating some green olives with undisguised relish. I have never eaten, nor even seen, one before but hey, the colour, shape and size are remarkably similar to a green grape so I assume that the flavour will also be similar. How wrong I am! I can still remember the shock as the salty, savoury taste exploded on my palate, puckering my face into a grimace.

If you have never drunk fino sherry before and are more used to juicy 'n' fruity whites, or reds enriched with a touch of oak, then your first taste is going to be remarkably akin to my first olive. The flavour is savoury and fresh, dry as a bone and, just like olives, once you acquire a taste for it you will never be happy with anything else. So be prepared to persevere with what is probably the best value fine wine on the planet.