Fire at Château de France
I am currently visiting the Graves region of Bordeaux, arriving last Tuesday, just after a serious fire at Château de France near the village of Léognan. Though not as well known as the heavyweight names of the region, such as Haut-Brion, de France is an immediately recognisable property because of the distinctive, yellow-painted château that catches the eye as you drive south from Léognan on the D651.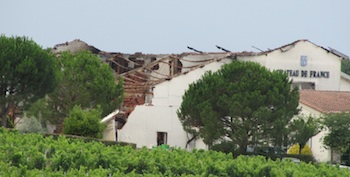 Sadly, what catches the eye right now is the scene of devastation at the, now roofless, chai. Thankfully the fire did not spread to the château itself but the damage is such that this year's wine will have to be vinified elsewhere. Plans are already in hand for the red wine to be made at next door neighbour, Château de Fieuzal, with the white being made a little further down the road at Malartic-Lagravière.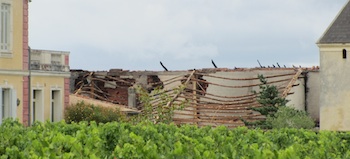 The only scrap of good news is that de Fieuzal has excess capacity thanks to the fact that a new winery will be commissioned there just in time for this year's harvest. As a consequence, the facilities used to produce last year's wine would have been lying idle but can now be used to give de France some breathing space prior to reconstruction of the destroyed buildings.