Elizabeth Semillon 1994
At the risk of being branded an 'Elizabeth-phile' I am going to write about this wine once more. This was my last bottle from a case bought about a decade ago and was opened over the weekend in anticipation of a forthcoming visit to Dublin by the Mount Pleasant winemaker, Phil Ryan. It is fair to say that it was on its last legs but it was a fascinating drink all the same.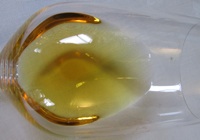 Getting the cork out was reasonably trouble free, though a soft chunk did break off and then sank to the bottom of the bottle, so saturated was it with wine. The colour was a deep honey-gold, worryingly deep, in fact. There wasn't a lot on the nose, apart from the unmistakable 'lift' that I always associate with Elizabeth Semillon. The palate was faint, though there was a clear echo of the vibrant acidity that is this wine's signature.

One hour later it was in much better shape. The acidity had perked up and was managing to carry the remainder of the flavour along with it. The fruit was faded and, curiously, there were none of the toasty notes associated with aged Hunter Semillon. This was not a wine for all palates but I happily drank a couple of glasses, safe in the knowledge that it carried a very friendly 10.5 per cent alcohol.