Conkers and Richebourg
The wind was whipping the conkers from the chestnut trees at Domaine du Comte Liger-Belair in Vosne-Romanée last Wednesday morning as I walked past, prompting a wimpish dash to the other side of the road to escape them. (You might have done the same if you had seen them bursting apart as they hit the road.) My destination was just a few yards further along rue du Château, where perhaps the most diligent sorting team in the world was hard at work, picking out anything that was sub-standard amongst the bunches of grapes that today are now well on their way to making Domaine de la Romanée-Conti's Richebourg 2011.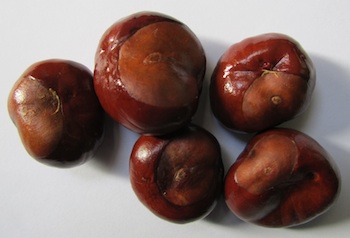 Amongst the team of sorters was Bernard Noblet, who succeeded his father André as cellarmaster here, and Bertrand de Villaine, nephew of the better known Aubert, who was to be found out in the vineyards supervising the harvest from his station atop a trailer that was being steadily filled with shallow trays of Richebourg grapes. While maintaining a conversation with a group of Japanese visitors from Suntory, de Villaine Sr did a quick survey of each tray as it came in, setting to work with secateurs whenever he spotted a bunch with some rotten grapes that needed to be trimmed off.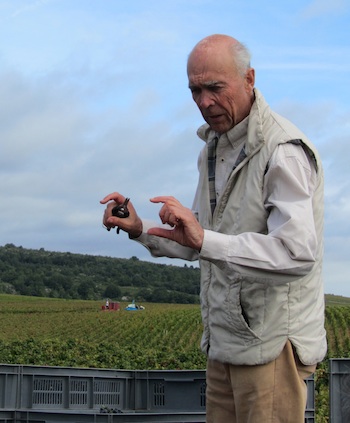 Aubert de Villaine explains how it is done.

Right next door, in Romanée-Conti itself, probably the most famed and fabled plot of vineyard in the world, the vines were bare, having been harvested the day before, along with the domaine's plots in the equally venerated Montrachet vineyard to the south of Beaune. Across the road a great swathe of the Romanée-Saint-Vivant vineyard lies fallow at present, without a vine to be seen, bare or otherwise. It was uprooted recently so that the problem of poor drainage could be properly addressed and will be replanted next year, though heaven knows how many years after that it will be before those grapes find their way into a bottle of Romanée-Saint-Vivant.