Burgundy Harvest Fare
The harvesters' dinner at Aubert and Pamela de Villaine's eponymous Bouzeron domaine takes place at 7.30pm each evening and is announced by a hand-held and enthusiastically rung bell – of the sort that used to do service in schoolyards across the world. Unlike the pupils' reluctant retreat from the schoolyard, however, the bell here summons an immediate response and soon a veritable United Nations of harvesters descends on the long table. They come from Poland, the Czech Republic, Portugal, Canada, Italy, Spain and France and on the evening I visited they sat down to a meal of white bean soup, girolles tart, cold roast pork, salad, cheese, ice cream and chocolate sauce.

In charge of the wine is Pierre de Benoist, Aubert's nephew, and the first one he pours is a Sancerre from his family's domaine in the Loire. Next up is an Italian red brought from home by one of the harvesters, and then, more predictably, a Mercurey 2005. In all, about 20 harvesters sit down to dinner, all of whom stay at the domaine during harvest, and during the day they are augmented by about 30 more workers.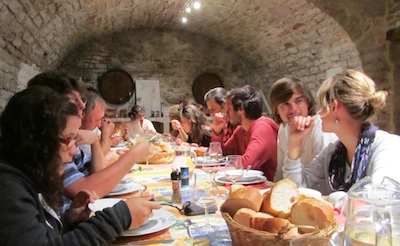 Providing accommodation and three meals a day for the pickers is increasingly rare, though at Bonneau du Martray the entire team of about 50 is housed and fed for the duration of the harvest. Jean-Charles le Bault de la Morinière and his wife Anne are in charge here. It might be expected that, at the sole domaine in Burgundy to produce only grand cru wines, the atmosphere would be rarefied and inhibiting. Far from it. My stumbling French is tolerantly listened to and then a reply comes back in far better English. The conversation takes place over a lunch of mixed salads, beef stew, cheese and fruit.

The format is much the same, except on a larger scale, at Domaine de la Romanée-Conti where a group of executives from Suntory in Japan joins the 100 or so workers for a lunch of beetroot and carrot salads, stuffed tomatoes with rice, cheese and île flottante. No ceremony is stood on, here or anywhere else. In most places as soon as the main course is finished the water jugs are cleared away and will reappear filled with coffee at the end of the meal. You drain your water glass and then have a glass of coffee. Très simple.