Burgundy Harvest 2012
It rained in Burgundy on Wednesday 26th September. Then it rained some more. And then some more. In all, about 50mm fell in 24 hours and, in the darkness of the early morning, it was accompanied by crashing thunder and sweeping flashes of lightning. There were not many grapes picked that day, though as I sat with Aubert de Villaine in his office at the Domaine de la Romanée-Conti we could see a few hardy souls at work in the vineyards. Whatever his thoughts were about their endeavours he kept them to himself.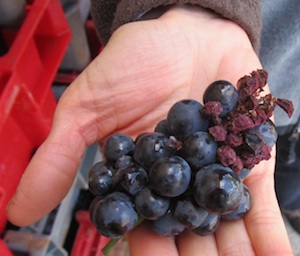 Healthy berries and sunburnt berries on the same bunch. Sorting is the key.

It is not an exaggeration to say that it has been a weird year in Burgundy. As Véronique Drouhin explained: "Some years we have problems with the weather, others we have problems with disease, this year was unusual because we had problems with both." The only consolation was the lack of botrytis and the knowledge that, despite all the problems, the quality of the grapes being harvested was still good. The quantities, however, were small, sometimes pitifully so. Drouhin's Beaune Clos des Mouches Blanc came in at 10 hectolitres per hectare, when 35 would be more normal, while the Corton-Charlemagne was even lower at a miserly seven.

In general, the Côte de Beaune suffered more than the Côte de Nuits, where yields were closer to normal. The real problem is that Burgundy has now had three small vintages in succession. The bigger, well resourced, producers should be able to cope but for the small growers the challenges are formidable. Prices will go only one way (do they ever go the other?) and the result may be that consumers will be scared away, for the moment, at least. When the wines are released and found to be delicious (I am sticking my neck out here) they may be tempted back. Only time will tell.