Burgundy Harvest 2010
Harvest, or
la vendange
, is the summit of the year's work, a period of frantic activity that is curiously at odds with the normally well ordered pace of life and work on the Côte d'Or. It follows on from one of the quietest periods in August when vineyard work ceases, holidays are taken and winery equipment is cleaned and checked. There is nothing to do but wait. Then, the normally sedate villages come alive with activity and noise. Tractors trundle through the streets all day, from before sun up until well after it has set, their cleated tyres depositing clods of mud and dirt everywhere. For most of the year an evening walk through one of the wine villages will be 'enlivened' by nothing more exciting than the sight and sound of people closing their shutters, as the village beds down for the night, curling in on itself like a dog in a basket. That all changes during harvest.

Harvesting Le Montrachet

It is the most exciting time of year to visit Burgundy, though caution must be your watchword if you decide to explore the back roads by car. Some are impossibly narrow and they are often bounded by those lovely dry stone walls that you were admiring just before that large tractor came around the bend towards you. They look anything but inviting now as you try to cosy up against them, and still he advances. You are completely motionless, breath held tight, and somehow the monster slips past. When you get to the next village another one is now behind you, towing a trailer load of grapes. Don't dawdle – or park there! – he has that space earmarked.

The vines are already touched by autumn, the leaves brittling in the cool nights, while the grapes ripen to succulence in the warm days. Gone is the verdant, high-summer carpet of foliage. It is now tinged by russet and not even a shot of botox will restore the leaves' youthful bloom. Some vineyards are deserted – those already harvested and those still waiting their turn – while others are swarmed with vendangeurs, harvesters with formidable reserves of stamina. They come in every cut and colour but by day's end the weary glaze on the eyes and the slump of the shoulders is universal. Their clothing – blues, reds, yellows, and greens – adds pinpricks of slowly moving colour to the green and russet vineyards. That is when it is sunny. When rain comes the de rigueur fashion accessory is the long, olive green oilskin, with a smattering of high-visibility, lime-yellow jackets for variety.

The Montrachet vineyard is a magnet for camera-toting tourists who arrive by car, bicycle, even on foot. Pixels go west by the million as they snap away, prompting the odd perplexed look from the harvesters. Can backbreaking labour really be that interesting? Parked close by are half-a-dozen mini buses, hired to transport the pickers. The seats are mummified, wrapped in heavy plastic bound by yards of tape, with the headrests similarly cosseted in cling film. No picker is going to leave mud or sticky grape juice or sweat on the precious fabric.

But stay! Could that be a mechanical harvester trundling through yonder vineyard? The sight of it rather ruins the hasn't-changed-for-centuries romance of the bucolic scene, but before you imbue that scene with too much cosy good feeling check with the pickers, at four or five o'clock in the afternoon of a rainy day, to find out just how romantic it is. With faces ghosted by exhaustion, backs aching and hands grimed they might tell a different story. For many it is paid work and that is that. From their standpoint the harvester is a threat to employment, not wine quality.

No vigneron wants to see visitors during harvest but if you ask very politely, promise to stay no longer than 15 minutes, not be upset if they breeze past you without a sign of recognition or, when they finally exchange a few words with you, take no offence as they answer a legion of calls on the mobile phone, then a visit just might be squeezed in. Prepare to be nimble-footed too, avoiding hoses that snake all over the floor of the winery, reversing trucks, racing forklifts and rushing cellar hands. Through all this seeming bedlam Véronique Boss-Drouhin weaves her way at the family winery on the outskirts of Beaune.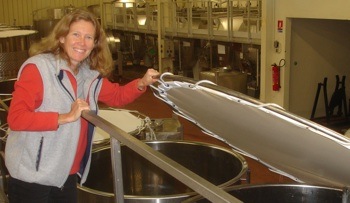 Véronique Boss-Drouhin

Two glasses are produced, a tiny tap is opened on the side of the tank labelled 'Montrachet' and the most glorious grape juice on earth is tasted eagerly. No need to spit either for this is just juice with no alcoholic content as yet. Just juice? It is luscious and tingly with an indefinable earthy whiff, like fresh sweat on a lover. Next up is the fragile pink juice of the Vosne-Romanée Petits Monts, Véronique's own personal vineyard, of which only a few barrels are made every year. To compare this to the sort of grape juice that comes in a carton at breakfast is to seek similarities between a Shakespearean sonnet and a badly translated instruction manual.

Even at this stage, with the harvest still in progress, definitive opinions are being carved into stone about the vintage's relative merits. It's something that happens every year but making vintage generalisations about Burgundy is a fraught exercise. They are about as accurate as national stereotypes and they lodge just as indelibly in the minds of consumers. Jean-Charles le Bault de la Morinière at Bonneau du Martray has little time for definitive judgements, passed mid-harvest: "Unduly negative reports are ruining the vintage before it is born. We knew we had a difficult flowering and some losses from that, but that gave looser bunches, a good load for the vine. There is plenty of ripeness and concentration." As he puts it: "All vintages are difficult."

Especially when it rains – with fat, well-fed drops – as it did in late September, testing the vignerons' mettle in the process. At times like this Morinière's secret is a 'blow dryer' in the form of a helicopter that hovers over the vines at a cost of €1,300 per hour. "Is it worth it?" The words are out and then the stupidity of the question dawns – helped by Jean-Charles' affirmative glance – before he explains that it has been used four times this vintage.

It is time for lunch. At Maison Alex Gambal, situated close to the heart of Beaune, Denis Toner from the USA is in charge of harvest catering and he holds court from his station in the kitchen to one side of the garage, waving a carving knife like a marshal's baton whenever a camera is pointed at him, and contributing the odd ribald comment by way of conversation. On the menu today is lentil and chorizo stew and coq au something creamy. Both are delicious. Bread and salad and cheese to go with them are laid out on another table with nary a glass of wine in sight. The atmosphere is unexpectedly subdued as the pickers troop in; it is too late in the week for juvenile horseplay or raucous banter. This is re-fuelling first, dining second.

Gambal himself looks like he is suffering from a week or two's jet lag. Through the fog of weariness it is possible to discern a palpable sense of relief rather than outright happiness. It might be an exaggeration to say that victory has been snatched from the jaws of defeat but it is not too far wide of the mark. Harvest for him consisted of an epic, all-hands-to-the-pumps race against time as he battled to get as many grapes as possible into the winery before the glorious sunshine was superseded by rain. It has been a remarkably tough couple of days but the effort has been worth it for the Washington DC native.

He is not the only foreigner making wine on the Côte d'Or. Up the road in Gevrey-Chambertin Mark Haisma from Australia makes wine in a rough 'n' ready shed that makes Gambal's premises appear lavish by comparison. Unlike Gambal, who arrived as a complete greenhorn and enrolled in viticultural school to learn the ropes, Haisma came equipped with a blue chip CV, having worked as a winemaker at Yarra Yering, one of Australia's most prestigious wineries.

Embellishing his credentials as a confirmed Francophile is the grey Citroën 2CV complete with front passenger seat that could double as a rocking chair, and in which visitors are taken on vineyard tours. Haisma isn't the least bit put out by pesky wine writers who insist on turning up during harvest. He's too excited by it all: "This is the point, this defines our whole year." Note taking is abandoned as we careen around the vineyards located on the 'wrong' side of the road. The RN74 is the backbone of the Côte d'Or though this backbone sits way off-centre and is more analogous to a mast supporting a sail, thus virtually all of the vineyards are to one side of it, left as you head north, right if you are travelling south. Vineyards on the 'wrong' side sit low in the pecking order, confined to journeyman status while the favoured sites across the road revel in premier and grand cru stardom. The rigidity of this division unravels a bit at Gevrey-Chambertin, however. "You can make good wine here provided you do a strict selection," explains Haisma, now back in the winery and showing off his sorting table that once did service at the storied Domaine de la Romanée-Conti, from whom any reflected glory is always welcome.

Morey-Saint-Denis is the next village along, separated from Gevrey by some of the greatest vineyards on earth. At Domaine Dujac the four dozen pickers and other workers, 60 in all, sit down to a typical lunch of pasta salad, confit tomatoes with olives and pesto, chicken breasts in tarragon sauce with mushrooms, fromage blanc and peach crumble. How they get up again is another matter. Nobody has ever carried out a study on post-prandial productivity in the vineyard… might the results be alarming if they did?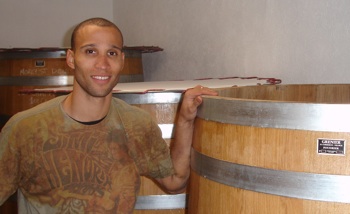 Ray Walker

Another American making his mark is Ray Walker who operates on a tiny scale in Nuits-St-Georges. He looks like a tall, slim, youthful version of the great boxer Sugar Ray Leonard. The bright, boyish eyes are the giveaway. He's a Californian who freely admits that he once associated wine with people getting drunk and didn't like it at all. His wife cured him by insisting he try it with food while on holiday in Italy. He was hooked. He tried Bordeaux but wasn't sure. "I could trick myself into liking it, but then I went to a Burgundy tasting and fell head over heels." Together they travelled to the region, in low season to appear a little less like tourists, and snooped around a bit. The addiction was now acute. He returned for the 2009 harvest, managed to buy some grapes and made the wine in Saint-Aubin where someone took pity on him and let him have a corner of cellar space.

Further south, in Volnay, the harvest has come to an end, its conclusion signalled by a great halloing noise and blowing of car horns that could have been a wedding party. A procession of mini vans wends its way through the village with exultant harvesters hanging out of windows and open doors. Heads garlanded, they bash the panels of the vans, before breaking off to hurl grapes at hapless onlookers and photographers. They come to a stop outside the church, where a good-natured if half-hearted riot takes place. Bunches of grapes and buckets of water are hurled all over the place and the odd shrieking girl gets a dunking. Outbursts of scattered faux fighting erupt but die away quickly as each burst of exertion reminds the pickers just how bone-weary they are.


Happy Harvesters in Volnay

Meanwhile an older cellar hand, with seen-it-all-before insouciance, blasts away at a stack of empty grape boxes with the power washer. Further away, standing on the perimeter of the action, is a dreadlocked young harvester, grimed in mud, spattered by 'grape shot' and pulling on a cigarette. "So you will be partying tonight?" I ask. "It's a party every night."

By evening the village has returned to something like normal. The sedate pace is restored, the church clock chimes the hours, the wine is fermenting, the pickers are gone, another year is over.