Burgundy Dawn
These 6.00am starts are not easy, particularly now with the days shortening and the sky still dark at that hour – save for a scattering of stars on a clear morning. But I was rewarded yesterday as I drove through Chassagne-Montrachet, crossing the D906 that links Saint-Aubin with Chagny, before climbing up the small hill between Criots-Bâtard-Montrachet on the right and Blanchot-Dessus on the left. Cresting the rise, the colours changed from muted greys to opulent reds, pinks and oranges and the vineyards went up a few notches in quality too; Bâtard-Montrachet now to the right and Le Montrachet on the left.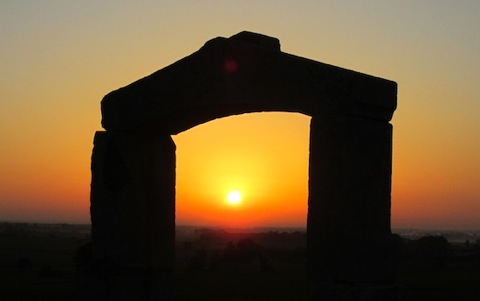 Sunrise at Chevalier-Montrachet: 7.11am, Saturday, 3rd September 2011.

Already at 7.00am there was a fair bit of traffic about but I managed to get this photo without being run over by a tractor. Hordes of harvesters thronged the village of Puligny, many of them enjoying a last cigarette before being driven out to the vineyards, usually sardine-jammed into a variety of vans and mini-buses. Further along, Volnay, as ever, had her prettiest face turned to the morning sun – if ever there were a beauty contest amongst the Côte d'Or's villages Volnay would always vie for top honours.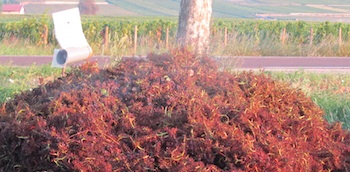 Steam rising from recently dumped marc.

Approaching Beaune on the main road through the avenue of plane trees my eye was caught by smoke coming from the vineyards on the right – or so I thought. It wasn't smoke but steam, rising gently from the mounds of recently dumped marc, soon to be turned into Marc de Bourgogne. It is usually a fiery spirit for aficionados only but in the hands of an experienced distillateur such as Eric Pigneret of Moroges (see here) it boasts a heart-warming glow rather than the sort of burn that might have you reaching for a fire extinguisher.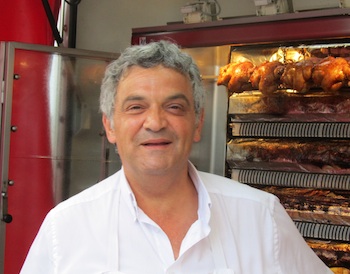 Alain Ruben.

Parking in Beaune on market day is usually a trial but not if you arrive before 8.00am. Someone who arrives at 4.00am every Saturday is Alain Ruben, purveyor of what I reckon is the finest cooked ham in the world. I eat it whenever I get the chance but enjoy it most for breakfast with a fresh baguette, which has been 'buttered' with runny époisses…