Barbeito Madeira
For thrilling intensity of flavour there is nothing to beat Madeira. Nothing. So there was no way I was going to miss the Barbeito tasting, hosted in Pearl Brasserie, Dublin yesterday by Ricardo Diogo V Freitas and organised by Ally Alpine of Wines on the Green.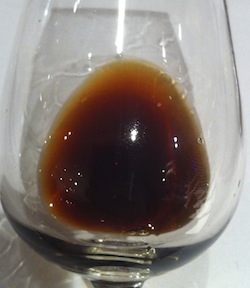 We started with a 2012 Malvasia that had just been fortified and which is about to begin its long ageing process. It was interesting to taste and it reminded me of the odd drop of altar wine I snaffled as a youngster, but with the treasures that followed it was soon forgotten about.
Sercial 10yo Reserve
(€33.99 75cl)
Copper-gold in the glass. Lovely sharp tingle, citrus and nuts. Very clean with mild savoury note.
VB Medium Dry Lote 3
(€23.99 50cl)
A 60/40 blend of Verdelho and Boal that didn't really work for me. It started with a nice tingle but it was a bit one-dimensional with some hollow spots in the flavour and a finish that disappeared all too quickly.
Verdelho 10yo Reserve
(€33.99 75cl)
We were back on track with this crisp 'n' sharp number. Deliciously clean and fresh with lovely citrus notes and some mild nutty hints on the finish.
Boal 10yo Reserve
(33.99 75cl)
Deep amber in the glass with classic caramelised orange peel, spice and nuts on the palate.
1997 Medium Sweet Single Cask 113
(€26.99 50cl)
Made from the unpopular Tinta Negra grape, it was hard to believe that this glowing amber wine had started life as a deep-coloured red. A gorgeous tingle of acid supported by richer notes. Lovely sweet 'n' sour character.
Malvasia 2000 Single Cask 39 a+e
(€29.99 50cl)
No, that 'a+e' does not stand for Accident & Emergency, rather it refers to the two warehouses in which this wine was aged. It started out in 'a' and was then moved to the cooler 'e' to slow down the ageing process and give better definition to the acidity. By some margin this was the best value wine in the tasting. (It is hard to believe that it is only €3 more than the 1997 and €6 more than the VB.) And in terms of ultimate quality it was only surpassed by the following wine. Lovely perfume, fantastic depth and intensity of flavour with lovely texture and not too much weight. "Gorgeous, utterly gorgeous," is how my note concluded.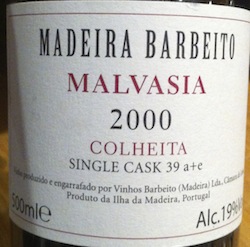 Malvasia 20yo Reserve
(€99.99 75cl)
Layers and layers of spicy, citrus, eye-watering depth. Brilliant.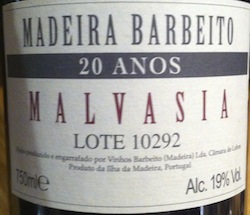 Malvasia 1875
Bottled 2008. Dark walnut colour. Spicy-sharp, nostril crinkling nose, almost too much. Intense 'balsamic' palate. Huge concentration and intensity. Memorable.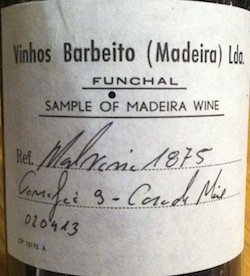 Five of the wines were then matched with some small dishes, with varying levels of success.
* Sercial 10yo Reserve with Fish Tempura, Chips & Caper Mayonnaise.
A reasonable match.
* VB Medium Dry Lote 3 with Donald Russell Lamb Tagine, Cous Cous Merguez sausage.
Not a great match, the Sercial 10yo went much better with this.
* Verdelho 10yo Reserve with Duck & Foie Gras Lollipop, Truffle Mousseline.
A good match.
* 1997 Medium Sweet Single Cask 113 with Roquefort and Coolattin Cheddar.
A good match.
* Malvasia 2000 Single Cask 39 a+e with Chocolate & Baileys Tart, Truffle Ice Cream.
An excellent match with the tart, on shakier ground with the ice cream.
All of the wines are available from Wines on the Green, Dawson Street, Dublin 2.
Check: www.winesonthegreen.com