Argentina Part II
Despite appearances there's wine beyond Mendoza, Argentina's principal region that accounts for the lion's share of production, and garners most of the attention from trade and consumers in the process. Down south there's Patagonia, which, between its sub regions, Río Negro and Neuquén, is home to about 4,500 hectares of vineyard. The aptly named Bodega Fin del Mundo is the oldest in Neuquén, yet planted its first vines as recently as 1999. It's almost a desert region and irrigation is essential to grow anything at all. The Pinot Noir 2010 is a pleasant wine, quite meaty and full, well balanced, if lacking a little of the tingle that Pinot should have. The Cabernet Franc 2008 is lavish and lush, while the 'Special Blend' 2007 is more successful, combining Malbec, Cabernet Sauvignon and Merlot in a neat, savoury package.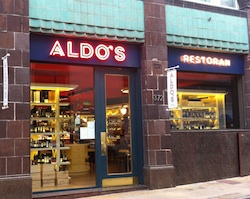 Aldo's - perfect for wine lovers.

Riesling does not have a high profile in Argentina yet it has been grown at Bodega Humberto Canale since 1937. The 2011 vintage has the cosmetic character common to most young Rieslings but there is a nice zip of acid too. The Pinot Noir 2010 is quite strong with a redeeming crisp core to keep it fresh. At Bodega del Desierto, just across the border in La Pampa province, the wines are more mainstream. Here, the Syrah 2009 with its dark, savoury core outstrips the more perfumed Cabernet Franc from the same vintage.

As the crow flies it is about 1,500 kilometres from Neuquén north to Salta, where the most northerly and highest of Argentina's vineyards are located. Bodega Colomé was founded in 1831 but its current incarnation dates from 2001 when it was bought by Donald Hess who owns a string of wineries around the world, including Peter Lehmann in Australia and Glen Carlou in South Africa. The Colomé Torrontes 2011 is a peachy, luscious expression of that grape's signature aromatic character, while the Estate Malbec 2009 is earthy and rich with a whiff of liquorice.

Colomé's neighbour in Cafayate, Michel Torino Estate, makes wines under that name and also under the Don David label. Justly, the wines have been well received in Ireland. They have character without being quirky, and broad appeal without being crowd pleasers. The Don David Malbec Reserve 2010 is a serious drop with impressive depth and would make a good starting point for a serious exploration of Argentinean wine.

GO VISIT
"For visitors to Argentina, missing out on Mendoza, the country's main wine region, doesn't mean missing out on its wines – or, for that matter, those of other Argentine regions." So said the New York Times last year and it is a sentiment with which I wholeheartedly agree.

Oeno-tourism is in its infancy in Argentina so it may be a little early to plan a holiday that majors on wine visits and the like. Long distances between wineries, with the journey often finishing with 15 bumpy minutes along deeply rutted roads, would tax even the most committed wine tourist. No matter, a one-evening gallop around the wine regions of Argentina is easily arranged at the excellent Aldo's Vinoteca (www.aldosvinoteca.com), an establishment that defies strict categorisation, as it is part-restaurant, part-wine bar and part-wine shop. The whole is comfortably greater than the sum of its parts and features a huge range of wines, knowledgeable and enthusiastic staff, and very good food.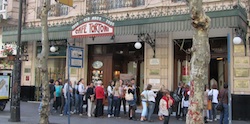 Customers queueing outside the Café Tortoni.

BUENOS AIRES
Elegant boulevards and seedy suburbs, with everything in between, combine to keep Argentina's capital high on the list of 'must visit' cities around the world. Take in a visit to Evita's grave at the Recoleta cemetery, tour the magnificently restored Teatro Colon, stop for coffee at one of the famous cafés such as the Tortoni. In many ways tango – severely elegant yet deeply sensual – captures the spirit of the city better than anything else, making a visit to one of the city's many tango clubs a must.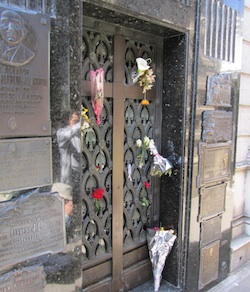 Evita's grave.

BEEF
No visit to Argentina would be complete without a mountainous steak but if you like yours with the juices running ruby then you need to specify this very clearly; incineration rules in these parts. The only failsafe method is to order it far rarer than you actually want it and then there is a fair chance that it will be done to your liking. Another tip: skip the starter unless you have the appetite of a trencherman.

BONARDA
Just as there is wine beyond Mendoza, there are signature Argentinean grapes beyond Malbec and principal amongst them is Bonarda, a grape that is deserving of more attention than it currently receives. A good example is the Iaccarini 2011 that is crisp, firm and refreshing. Granted, it doesn't have the weight and depth of its big brother Malbec, Nicasio 2009, but the wine world would be a sorry place without the variety and diversity contributed by the less heralded grape varieties.

Article originally published in Food & Wine Magazine.