Argentina Part I
Remember the Renault 12? The small family saloon with the funny, ski-slope boot that has all but disappeared from Irish roads? Well, it still rules in Argentina, specifically the city of Mendoza, capital of that vast country's eponymous principal wine region – as I had plenty of time to observe when stuck in early morning traffic on my way to the Luigi Bosca winery recently. Once past the security guards and into the tasting room the bustle and noise of the street is soon forgotten; perhaps because said 'room' is actually a converted, massively-walled, concrete wine vat.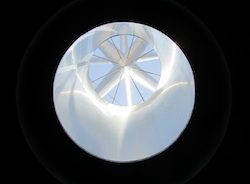 Diamandes Winery.

Do they make Malbec at Bosca? Silly question. Yes, they do, but it is lighter on its feet than many others and, right out at the other end of the style spectrum, there's also an acceptable Riesling that unfortunately doesn't make it to these shores. Lightness of touch is not something they major on in Argentina, but you will find it mainly in the more commercial ranges such as Santa Ana where they are doing nice things with the Bonarda grape; Trivento, where the reds are generally more characterful than the whites; and Doña Paula whose claim, "The true expression of Argentine terroir," is not as far wide of the mark as a jaundiced wine scribe might think. And the latter's policy of harvesting a little earlier rather than later, in an effort to avoid soupy, plodding flavours, has to be applauded.

For those whose tastes run to richer, more lavish, even Baroque, flavours Argentina has much to offer and none more so than the Alta Vista range where the Premium Malbec 2009 comes with 15% alcohol and a big serving of concentrated, spicy fruit. Unfortunately 'premium' often means a whopping, all-the-bells-and-whistles wine which leaves the palate reeling. The most extreme example of this that I came across was at the Monteviejo winery where the Lindaflor, La Violeta Malbec 2007 waddled onto the scales at 16% alcohol.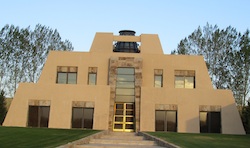 Catena Zapata.

Monteviejo is a constituent winery of the vast Clos de los Siete estate, brainchild of Michel Rolland from Bordeaux, where each winery makes its own wine and also contributes fruit for the eponymously named (and very good value) estate wine. It's a luxurious number, lushly flavoured but with some elegance too and it partners very well with a sizzling steak straight from the barbeque. As does the well-crafted Diamandes Malbec 2010, a dark-fruited wine from another of the Clos' wineries, in this case owned by the Bonnie family whose home base is Château Malartic-Lagravière in Bordeaux.

A similarly dextrous hand is in evidence at Catena Zapata whose pyramidal winery building, inspired by Mayan architecture, must be the most photographed and recognisable of all Argentina's wineries. The wines are no slouches either and, critically, are capable of ageing well, as evidenced by the Nicolas Catena Zapata 2001. It is a 90:10 blend of Cabernet Sauvignon and Malbec, seamlessly melded together by a decade's ageing and now delivering lovely sweet fruit and a velvet texture on the palate.

Nicolas Catena is regarded as one of the pioneers of the modern Argentinean wine industry, one that has made enormous strides forward since my last visit a dozen years ago. In terms of style the wines are slightly behind the curve – whites a little blowsy, reds a little mighty – but Argentina is on the move and her wines deserve more recognition in this country than they are currently receiving.

EL COMMANDANTE
It's a story tinged with sadness, the Irish-owned winery in Mendoza established by retired army Commandant Michael Lynch in 2006, who sadly passed away shortly afterwards. His son, Tom, now manages it and the wines, a Chardonnay and a Malbec, are widely available in independent wine shops across the country. The Chardonnay is replete with gentle tropical fruit while the Malbec is fresh and juicy and pleasantly light-textured.

MALBEC
Despite its French origins Malbec has become so closely associated with Argentina that it is now the standard bearer for Argentinean wine. For too long it has been made in the image of a front row forward but there are now encouraging signs that it can play on the wing too, if handled correctly. It is a more versatile grape than its image suggests so be careful not to dismiss it as a one-trick pony.

THE ANDES
As vineyard backdrops go it is hard to beat the Andes mountains but they are more than just a pretty face; winemaking in semi-desert Mendoza would not be possible without them. The mountains act as a great reservoir, providing water for irrigation, as well as altitude. Although the vineyard land is flat much of it sits at 1,000 metres or more, providing the temperature difference between night and day that is essential for good grapes.

Article originally published in Food & Wine Magazine, March 2012.